'Finding Dory': Watch Newest Trailer for 'Finding Nemo' Sequel Here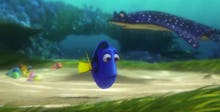 The newest trailer for Pixar's Finding Dory, the long-awaited sequel to 2003's Finding Nemo has just been released — and so far, the new film looks to be just as visually stunning and delightfully playful as its predecessor.
Read: The Disturbing Trend in Almost Every Female Pixar Character
Ellen DeGeneres, who voices Dory, debuted the newest trailer for the film on her talk show on Wednesday, Entertainment Weekly reported.
From what we know so far, Finding Dory will follow Dory, the chronically forgetful blue tang fish, as she tries to uncover her past and reunite with her family. 
If Pixar's existing body of work is any indication, the real joy of Finding Dory will be the rich, underwater landscape. Also, we hope the tiny octopus is back. Finding Dory will hit theaters June 17.