Bernie Sanders Is America's Favorite Candidate, According to Pornhub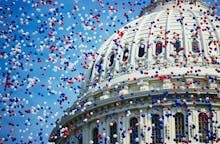 Many porn viewers feel a burning in their loins when logging into Pornhub. But it turns out lots of them are also feeling another type of burn:
The Bern, to be exact.
This is just one of the many revelations unearthed in a recent Pornhub poll shared exclusively with Mic. 
In an effort to gain some insight into the political leanings of our country's hornier citizens, the porn giant conducted a recent survey that was completed by more than 371,000 of the site's viewers. That's a lot of people putting their salami-slapping and mouse-clicking on hold to answer questions about politics!
For Democrats, Bernie Sanders is the big winner — a whopping 73.4% of porn-loving democrats are yearn-y for Bernie! (Yes, that was a bad pun. But there's only so many times #FeelTheBern can be used and abused before it loses what little charm it has left.)
As far as Republicans are concerned, the results indicate that Donald Trump is the favorite by a landslide (60.5%). Meanwhile, Marco Rubio and Ted Cruz wallow in second and third place with 19.9% and 19.6%, respectively (which is fairly consistent with current national stats, for what it's worth).
Sanders also comes in first regardless of viewers' party affiliations, taking in 31.1% of overall votes, with Trump coming in second at 19.6% and Hillary Clinton at third with 11.2%.
The below infographic has the rest of the juicy details:
The survey also touched on a number of hot-button issues likely to play a role in the election — everything from marijuana legalization to gun control to domestic surveillance. How viewers feel about the defunding of Planned Parenthood is particularly of interest: The results indicate that lots of people jerking off on the internet aren't exactly in favor of the porn actresses they're watching (or any females) having, y'know, rights.
"Abortion funding should be reduced," said 24.2% of respondents, while 9.2% said "everything [Planned Parenthood] stand[s] for is wrong."
At the end of the day, the opinions of porn viewers seem to reflect the opinions of society at large: They are mixed and varied and totally different from person to person. Further proof that everyone is watching porn and getting off, regardless of their political affiliation — and anyone who says otherwise is totally full of shit.
Politics!