Who Will Be in the Fox News Republican Debate? GOP Field Down to 4 at Thursday's Event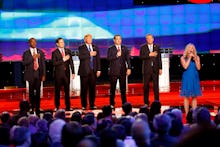 Telemundo/Getty Images
The end is in sight, for better or worse: Thursday night marks the 11th Republican debate and the least crowded stage we've seen yet. Participating in the Fox-hosted event — which will be broadcast and livestreamed from Detroit, Michigan starting at 9 p.m. Eastern — will be Republican frontrunner Donald Trump, Texas Sen. Ted Cruz, Florida Sen. Marco Rubio and Ohio Gov. John Kasich. 
Ben Carson, who no longer sees success as the outcome of his race, has declined to participate in Thursday's Republican debate, but will not be suspending his campaign just yet.  
"I do not see a political path forward in light of last evening's Super Tuesday primary results," he said, after winning a meager three delegates in the March 1 contest. "However, this grassroots movement on behalf of 'We the People' will continue."
Read more: Everything You Missed in the Last Republican Debate Before Super Tuesday
In order to qualify for the 11th GOP debate, the candidates must each have had, by 5 p.m. Eastern on March 1, a minimum of 3% support in the five most recent nationally conducted polls. 
One may think that, after so many GOP debates and so many of the same conversations circulated by the 24-hour news cycle, there's nothing new to say here. One would, however, be wrong. As moderators Megyn Kelly and Bret Baier said in a preview of the event, they've spent time crafting previously unasked questions from previously unexplored angles, and they're taking suggestions from viewers beforehand.
But if past behaviors are any indicator of what to expect (they are), the debate will offer another platform for Cruz, Rubio and Kasich to attempt a Trump torpedoing. Unfortunately, though, Trump's support base is solid; he's coming off a Super Tuesday win in seven substantial primaries, demonstrating that neither apathy toward racists nor reverence for fascist figures can drive his supporters away. 
Going into the debate, Trump leads the pack, followed by Cruz, Rubio and Kasich — their position on stage will, as usual, reflect their polling rank.