River Island Is Releasing a Badass 75-Piece Plus-Size Collection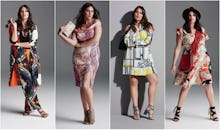 River Island is finally getting hip to the knowledge that plus-size women deserve clothing as beautiful as the bodies they wear it on.
Recognizing the ever-increasing demand for plus-size clothing that isn't frumpy or constructed of "shit fabrics," the U.K. high street fashion brand, which famously partnered on a full collection with Rihanna in 2013, has joined the growing list of brands and celebs releasing plus-size clothing collections.
Read more: What the First Designer to Ever Show Plus-Size Clothes at Fashion Week Wants Us to Know
On Wednesday, River Island will launch its RI Plus collection comprised of 75 pieces from its main collection including stretch skinny jeans and a black leather biker jacket, all available in sizes 18 to 24. 
"It's clear they have thought about a curvy woman's body and designed accordingly while giving her exactly what can be found on the high street at any other size," supermodel Candice Huffine said in a press release shared with Mic.
Huffine, who's graced covers including i-D and Italian Vogue, is fronting the new campaign for the collection.
It's a perfect pairing, as 1. she's gorgeous (duh), and 2. she's spoken out about her fraught early experiences trying to break into the industry. "'Can you drop some sizes?'" she recalled being asked early in her career during a 2015 interview with Into the Gloss.
She joins recent Sports Illustrated swimsuit cover model Ashley Graham, sharing obstacles faced by plus-size models, despite increasing exposure. "Trying to find a dress for the Oscars, a girl my size, [with] these girls this size — I mean, it has been a whole job in itself," Graham told host Giuliana Rancic during E!'s Live From the Red Carpet at Sunday night's Oscars.
To that end, brands like Forever 21 and Target have created plus-size or body-positive lines of clothing. Stars like Beth Ditto and Rebel Wilson have also created clothes themselves in response to the lack of offerings from mainstream brands. Ten-year-old Egypt "Ify" Ufele even presented a plus-size clothing line at New York Fashion Week.
Soon, perhaps, we'll find ourselves at a time when plus-size clothing is no longer regaled for its innovativeness, but rather, its quality and general "Damn, that looks good!" And if the first look at some of River Island's collection is any indicator, we're well on our way.