Sarah Paulson Doesn't Want to Label Her Sexuality — And That's Cool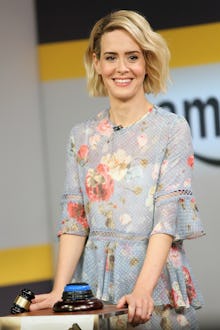 Actress Sarah Paulson, currently starring as prosecutor Marcia Clark in FX's The People v. O.J. Simpson: American Crime Story, had some powerful things to say about her sexuality in a recent interview with the New York Times.
Read: Emma Watson Just Took a Small Stand for Female Sexuality
The 41-year-old actress has been in the news lately for her high-profile relationship with fellow actress Holland Taylor, who is 32 years older than Paulson. Speaking to the Times, Paulson declined to label her sexuality, saying "If my life choices had to be predicated based on what was expected of me from a community on either side, that's going to make me feel really straitjacketed, and I don't want to feel that ... What I can say absolutely is that I am in love, and that person happens to be Holland Taylor."
Paulson's involvement with Taylor isn't her first very public relationship — Paulson also dated actress Cherry Jones and actor and playwright Tracy Letts, according to the Times. 
"My choices in romantic partners have not been conventional, and therefore the idea that it is 'other' makes it compelling," Paulson told the Times.
Her decision not to label her sexuality sends a powerful message that, no matter how her relationships are perceived, sexuality is a self-determined identity. And if Paulson chooses not to label herself, that's cool with us.