Deadmau5 Blasts Kanye West, Says Rapper Needs Money for 4th Grade Education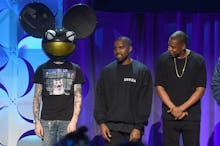 Kanye West might have finally met his match. Canadian producer and electronic artist Deadmau5 is clapping back at the Chi-town rapper, who has a knack for engaging in unnecessary Twitter rants and feuds — though, to be fair to Yeezy, he started it. The "Strobe" performer is upping the ante against Yeezy, telling him to save his money for a "4th grade education."
Deadmau5 was perusing Twitter Tuesday afternoon when he spotted Ye's post, teasing fans about some upcoming music from the studio with a screenshot of his computer screen. He replied, "What the fuck @KanyeWest... Can't afford serum? Dick," referencing West's open computer tabs, which reveal the artist may have been illegally downloading Serum audio software from Pirate Bay.
Read more: Kanye West Just Got Busted on the Pirate Bay, but That's Not Even the Most Ironic Part
"Let's start a Kickstarter to help @KanyeWest afford a copy of Serum," he continued. "He needs a small loan of $200 #PrayForYeezy." As Mic previously reported, Serum audio software, a synthesizing tool for electronic music production, costs $189. This, of course, was the straw that broke Yeezy's back. 
Deadmau5, who maintains consistent communication with fans across Twitter on a near daily basis, would only let West go on so long before he came back swinging. 
The exchange went on for some time, as any typical petty back-and-forth high school drama goes:
Deadmau5 seemed to end the pettiness with a simple tweet:
Correction: March 3, 2016