The Marvel-Disney Crossover 'Big Hero 6' is Getting a TV Series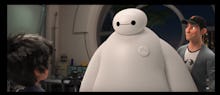 YouTube
We might not be getting a real life Baymax as a healthcare companion anytime soon, but this is a close second. Off the success of Disney and Marvel's first crossover film — Big Hero 6 — Disney will now pick up where the film left off with an animated series on Disney XD in 2017. In addition to Baymax, the rest of the core cast of heroes will return: Hiro, Wasabi, Honey Lemon, Fred and Go Go. 
According to Entertainment Weekly, the series will have Hiro (played by Ryan Potter in the film) endure "daunting academic challenges and the social trials of being the little man on campus. Off campus, the stakes are raised for the high-tech heroes as they must protect their city from an array of scientifically enhanced villains." 
Read more: With 'Big Hero 6,' Disney Gets The Future Right
Big Hero 6 was Disney and Marvel's first crossover film — a collaboration based on a Japanese-influenced comic book series that launched in 1998. As such, the film incorporates Japanese culture and the tech culture of Silicon Valley in the fictitious city of San Fransokyo. 
In the movie, Hiro and his older brother Tadashi (Daniel Henney in the film) are tech prodigies in their own rights — though Hiro is not willing to attend the San Fransokyo Institute of Technology like his brother. Instead, he creates robots for illegal robot fights (futuristic cockfighting, basically). Tadashi's most important creation, meanwhile, was Baymax, a prototype robot shaped like a marshmallow that works as a healthcare companion. 
However, after a tragic incident at the school kills Tadashi, Hiro and Baymax form a special bond over their shared loss. The two work together as high-tech superheroes, along with Hiro's eccentric friends. Critic reactions to Big Hero 6 were overwhelmingly positive, with praise doled out to the creative ode to nerd culture. 
"Big Hero 6 celebrates nerd culture," Lisa Kennedy wrote for the Denver Post. "And not merely the pop-culture- obsessed version (comic books) but the let's-invent-something-cool kind. Hey, kids, this PG flick asserts, it's good be taken with technology, crushed out on code, wowed by chemistry." 
Now, Disney will continue the narrative of Big Hero 6, and the ongoing adventures of Hiro and the ever-lovable Baymax. "We are thrilled to have the opportunity to further develop these characters into a world class animated series — full of fun, action and the kind of endearing storytelling that only Mark, Bob — and Baymax — can deliver," Disney Channels Worldwide president Gary Marsh said of Big Hero 6. 
On a scale of one to 10, let's collectively rate our excitement at an 11.