Here's How "Female Viagra" Is Actually Doing, 4 Months After Hitting the Market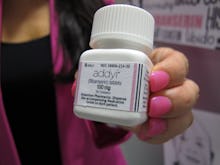 Remember all that hullabaloo about flibanserin, the libido-boosting drug known as "female Viagra"? Well, it might've been a little premature. 
According to a study published this week in JAMA Internal Medicine, the first-ever drug marketed for women with low sexual desire leads to an average of "one half" additional satisfying sexual encounters per month. This outcome was only marginally better than a placebo, leading some to conclude that flibanserin might not be the miracle drug it's cracked up to be.  
The drug, which is marketed under the name Addyi, was approved by the Food and Drug Administration last year, after a protracted battle to get a female-targeted low libido pill on the market. 
Along with a coalition of female sexual health advocates, flibanserin developers at Sprout Pharmaceuticals (which has since sold flibanserin to pharmaceutical giant Valeant) made the case that the FDA approval process was sexist, arguing that while men are afforded a number of pharmaceutical options for dealing with low sexual desire or function, women had none. 
Now, researchers have found that in addition to providing only a modest libido boost in women who experience hypoactive sexual desire disorder (HSDD), Addyi can also cause nasty side effects, such as dizziness, nausea, fatigue and sleepiness.
While some women with HSDD have experienced positive side effects from using flibanserin and claim the drug has been life-changing, some physicians question whether or not the drug's apparently limited benefits make it a worthwhile approach to addressing low sexual desire. 
"An additional half a satisfying sexual encounter a month — is that meaningful?...I think only the women can answer that, but perhaps they already have with their lack of enthusiasm for getting prescriptions," Dr. Adriane Fugh-Berman, director of the PharmedOut project at Georgetown University, told the New York Times. 
Indeed, according to the Times, women aren't exactly rushing out to get Addyi: In January, the drug was averaging fewer than 300 prescriptions per week. Given the limited demographic flibanserin targets — i.e., women who have been diagnosed with HSDD, a condition that is controversial in the first place — that's not exactly surprising. But it could also be a sign that low female sexual desire isn't something that can be dealt with simply by popping a pill. 
h/t New York Times
Correction: March 3, 2016