'Finding Dory': Release Date, Plot and Cast Details for the ' Finding Nemo' Sequel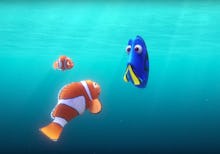 YouTube
Finding Dory, the highly anticipated sequel to the 2003 hit Finding Nemo, will be released June 17. The film will see the return of everyone's favorite fish friends, with Ellen DeGeneres as the voice of the titular Dory, in addition to Albert Brooks, the voice of Marlin the clownfish. 
Idris Elba, Masters of Sex's Michael Sheen, It's Always Sunny in Philadelphia's Kaitlin Olson, The Affair's Dominic West, Modern Family's Ed O'Neill and Ty Burrell, as well as Diane Keaton and Eugene Levy all lend their voice to Finding Dory. Nemo will be voiced by newcomer Hayden Rolence, having previously been voiced by Weeds' Alexander Gould.
Read more: All of Pixar's Films Ranked By How Feminist They Are
Thirteen years after she helped Marlin find his son Nemo, the forgetful Dory remembers that her parents are also lost somewhere in the ocean. Dory, who has short-term memory loss, comes to the realization that she misses her parents, and sets off on an aquatic adventure to find them. 
Along the way, she bumps into familiar faces, like Crush the turtle.
Dory also converses in whale with a friendly whale shark, apparently an old acquaintance of Dory's, who has fun retelling Dory the same story after she forgets it.
Watch the trailer below: