The Killer Nanny Who Beheaded a Child Has Become a Political Symbol in Russia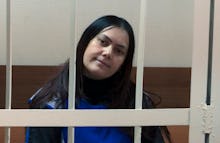 Gulchekhra Bobokulova made international headlines on Monday when she was found outside a metro stop in Moscow waving the severed head of a 4-year-old girl she had been babysitting. Bobokulova, who pled guilty to the crime, left the decapitated body in the girl's family apartment, which the nanny had set on fire.
Bobokulova, a Muslim from Uzbekistan and mother of three, appeared in a Moscow court Wednesday, after which she told reporters that "Allah ordered" her to kill the girl, according to the Independent. 
Now, suddenly, Bobokulova's faith — and not the reports that she appeared mentally unstable or is allegedly schizophrenic — has become the central part of her story. The Communist Party of the Russian Federation, or KPRF, are now holding her up as an example of why the country should move toward an unwavering anti-immigration stance.
"I am Allah's messenger. Hello, everyone," she reportedly said in court, waving, according to the Independent.
She reportedly claimed she committed the murder to avenge the Muslims killed by the Kremlin's decision to intervene in the Syrian civil war.
"I took revenge against those who spilled blood," Bobokulova says in a video, according to Reuters. 
"[Russian President Vladimir] Putin spilled blood, planes carried out bombings," she added. "Why are Muslims being killed? They also want to live."
Russia has tried to distance itself from the issue, with the state-run TV organization choosing not to report on the incident, Reuters reported.
But parties like KPRF are attempting to capitalize on the incident with propaganda designed to win support for their proposed immigration laws.
The graphic, which depicts a woman in a burqa holding a severed head behind a "no" symbol,  aims to elicit fear and an anti-Muslim sentiment, a recurring theme for nationalist and populist politics across the Western world in recent history.
Nick Griffin, then-leader of the United Kingdom's far-right British National Party, addressed the issue in 2008. "[We] should be positioning ourselves to take advantage for our own political ends of the growing wave of public hostility to Islam," Griffin said, as recounted in Islamic Movements of Europe.
Then, of course, United States Republican candidate Donald Trump stunned much of the world in December with his call for "a total and complete shutdown" on allowing Muslim immigrants into America. Even in the face of such extremist rhetoric, the GOP frontrunner's words seem to resonate with much of America's right wing, suggesting targeting Muslims is, in fact, the pragmatic thing to do.
Get the five stories that will challenge you to rethink the world by signing up for MicCheck Daily.