The New 'Ghostbusters' Trailer Is Here, and It's Spectacular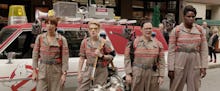 The new, all-female Ghostbusters movie holds the dual titles of one of the most anticipated movies of 2016 and one of the most controversial. From the first announcement of the cast — Melissa McCarthy, Kate McKinnon, Leslie Jones and Kristen Wiig — fans of the actresses (and director Paul Feig, who helmed Bridesmaids and Spy) have been ecstatic.
Some fans of the original movie, however, have harshly rebuked the idea of female Ghostbusters. The main complaint is that these women aren't the "real" Ghostbusters — with critics perhaps forgetting that the original Ghostbusters also weren't real.
The first trailer for the new Ghostbusters dropped Thursday morning, and if this doesn't silence haters, nothing will.
The trailer sets up the cast nicely: McCarthy's the leader, Wiig's the book smarts, Jones is the street smarts and McKinnon is the mad inventor with wild contraptions. The plot: They bust ghosts. What more could you want?
Ghostbusters looks exactly like what it needs to be: a spooky, funny thriller that both respects the original and stands on its own. It's not reinventing the wheel — but in a Hollywood climate that fails to feature women prominently despite their through-the-roof profitability, this movie is taking the wheel, tricking it out and watching it fly.
Ghostbusters hits theaters July 15. Watch the full trailer below.