Austin Couple Received a Racist Receipt From IHOP — and This Is How They Responded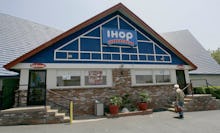 Ariania Brown and her boyfriend, Rolman Sparkman, stepped into an IHOP in Austin, Texas, to pick up a to-go order early Monday morning and wound up with a lot more than they expected. When Brown and Sparkman checked their receipt, they saw that it was labeled "BLACK PPL," reports local ABC affiliate KVUE. 
"I feel upset, I'm sad, I'm angry," Brown told KVUE. "Like this, it makes no sense. You could have asked me my name." 
Read: White Man Posts Racist Selfie With a Black 3-Year-Old — Here's How His Family Fought Back
Restaurants often use shorthand to identify customers on receipts, but when those notes reduce the customers to their race, or their sexual orientation, as was the case at this Ohio restaurant, they become part of a larger pattern of identifying — and judging — people based on their perceived identities.
Although they were upset, Brown and Sparkman didn't immediately say anything to the restaurant employees about their receipt. Instead, Brown told KVUE, she went home and posted a photo of the receipt on her Facebook page. It has since been shared thousand of times.
In response to the viral photo, IHOP's corporate headquarters released a statement saying "This was a poor choice made by our franchisee's team member, and is not in keeping with policies and procedures. We recognize that it could be offensive and apologize. Everyone is welcome in our restaurants and our franchisee is using this as a teachable moment for the entire team so that it will not reoccur," reported KVUE.
Brown told KVUE that she will not return to IHOP.