Artist Martin Molin Built a Rube Goldberg-esque Instrument That Runs on Marbles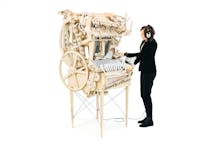 It looks like something straight out of the world of Dr. Seuss — but the music it makes could slip smoothly into any SoundCloud playlist and not raise a single eyebrow.
Abstract artist and musician Martin Molin, member of the Swedish band Wintergatan, has created a fascinating monolith of an instrument powered by marbles and cranks. It doesn't require any electricity — the only input needed is turning a crank and fingering the neck of an inlaid bass guitar, which is played by falling marbles.
Read more: 
Molin was inspired by the already well-established marble machine culture. He pointed specifically to Matthias Wandel's YouTube channel and gear generator software and automata art as specific inspirations in an email to Mic.
"Marble machines always make music, but I was thinking maybe I can make a programmable marble machine, that doesn't make chaos but is actually controllable in the sounds it makes," Molin told Wired U.K.
By pulling various levers, the machine's operator can produce various 32-bar loops of vibraphone, bass, kick, snare and percussion sounds that have a surprisingly good groove to them. "It's totally reprogrammable, but it has its limitations in scales and note range has its limitations in scales and note range," Molin told Mic. "Right now it is E minor/ G major but it could be altered by changing the toneboxes of the vibraphone."
With this machine, Molin is taking the art of programming to a grid back to its roots. 
"I grew up making music on Midi, and everyone makes music on a grid nowadays, on computers," he told Wired U.K. "Even before digital they made fantastic, programmable music instruments. In bell towers and church towers that play a melody they always have a programming wheel exactly like the one that is on the marble machine."
He's currently planning to take the machine on tour, once he figures out a way to easily break it down, transport it and set it back up again. But judging by the instrument's complexity and the multiple impediments to construction he faced, which turned this project from a two-month to a 14-month project, it may be a while before others can hear it in person. 
In the meantime, watch Wintergatan's video below.