Ted Cruz's Bad Lip Reading Is the Hilarious Distraction You Need Right Now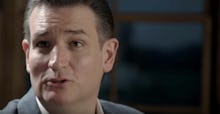 The hilarious people behind the "Bad Lip Reading" YouTube channel have given Ted Cruz his very own lip dubbed campaign ad — and the results are even better than you think.
Read: Ted Cruz Keeps Quoting 'The Princess Bride,' and Mandy Patinkin Isn't Having It
Using Cruz's own videos, paired with a hilarious voiceover, the lip reading has him delivering such campaign gems as "your face isn't my face" and "that old man just took my spork."
The lip dub turns innocuous campaign stops into bizarre and fraught interactions between Cruz and normal people.
And the rest of the Cruz family wasn't safe from the hilarious lip dub either — the video also has Heidi Cruz implying that her husband enjoys eating hair. Human hair.
So if you're sick of listening to the real-life things that presidential candidates say, you might need to watch 3 minutes and 53 seconds of Ted Cruz lip-dubbed with nonsense phrases.