Donald Trump's Health Care Plan Is Standard GOP Fare — With One Big Exception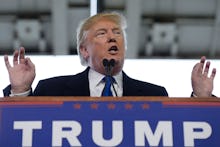 As he inched closer toward the Republican presidential nomination, on Thursday Donald Trump unveiled his plan to reform the nation's health care system, drawing on standard conservative prescriptions but notably deviating from GOP orthodoxy by endorsing the importation of prescription drugs from foreign countries.
The plan: Trump's seven-point plan builds on ideas he has espoused since launching his presidential bid in June 2015, beginning with the complete repeal of President Barack Obama's signature health reform law. 
Doubling down on policies championed by many conservative policymakers, Trump also calls for the creation of tax-free health savings accounts, allowing the sale of insurance across state lines and giving states discretion over federal Medicaid funds. Trump's plan would also permit individuals to deduct insurance premiums from their taxes and establish a system that makes it easier for consumers to compare prices for medical expenses.
Butting heads with pharmaceutical interests, however, Trump aligns himself with Democratic presidential hopefuls Hillary Clinton and Bernie Sanders in calling for the importation of lower-cost prescription drugs from overseas. Touting himself as a self-funding billionaire, Trump has argued that his independence from megadonors will free him to take on special interests.
Why it matters: What's most notable about the plan, however, is how little it differs from those put forth by previous GOP presidential nominees like John McCain and Mitt Romney, who also favored measures like interstate insurance sales and health savings accounts.
It's a significant departure from Trump's previous flirtation with a government-funded single-payer health care system, a policy Sanders advocates. Trump suggested he was open to a government-financed system as he weighed a 2000 presidential run, and he even had warm words for other countries' single-payer systems during an August presidential debate.
"As far as single payer, it works in Canada, it works incredibly well in Scotland, it could have worked in a different age, which is the age you are talking about here," Trump said at the time, while adding that he favored a private-market solution for the United States.
By going all-in on that private approach, Trump's health care plan underscores the influence of party ideology in shaping candidates' plans. Though Trump proudly bucks the GOP establishment — and has certainly evinced greater ideological flexibility than Ted Cruz or Marco Rubio — the growing polarization of the two parties creates incentives for primary candidates to stake out policy positions that conform to party orthodoxy. 
While Trump's plan also draws on liberal ideas, voting Republican means voting for a candidate who favors getting rid of the Affordable Care Act, wants to reduce the federal role in Medicaid and sees the free market as the optimal means for dealing with medical insurance — whether the nominee is Trump, Cruz or Rubio.
Rhetorically, however, Trump still differs sharply from his fellow Republicans, often sounding more like a bleeding-heart liberal than a free-market conservative.
"If somebody has no money and they're lying in the middle of the street and they're dying, I'm going to take care of that person," Trump told ABC's George Stephanopoulos in January.
That instinct — combined with Trump's past openness to a single-payer system and his carefully-cultivated image as a deal-maker — suggests that Trump may not be as rigidly committed to his health care plan as his Republican rivals are to theirs. 
Expect Cruz and Rubio to make that point in Thursday night's GOP debate in Detroit. But don't count on it making much difference: If this primary season has taught us anything, it's that GOP voters aren't looking for down-the-line conservative purity. They're far hungrier for a candidate who will channel their anti-establishment anger — and no candidate has owned that mantle more than Trump.