World Trade Center Transportation Hub and the Oculus Open for Commuters Thursday in NYC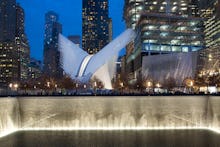 The World Trade Center Transportation Hub, the most expensive train station in the world, will open up at 3 p.m. on Thursday in Manhattan, almost immediately serving nearly 200,000 commuters daily as they go about life in the Big Apple. It's been nicknamed "The Oculus," and stands where the first World Trade Center train station was decimated during the terrorist attacks on Sept. 11, 2001. 
The World Trade Center Transportation Hub took 12 years to complete, costing the Port Authority of New York and New Jersey nearly $4 billion dollars — way more than their initial projections of just over $2 billion, according to the New York Times. Gizmodo posted a 360-degree video on Facebook Tuesday, showing the main hall of the hub, or the Oculus, as well as its subway platforms and gloriously high ceilings. 
Read more: Watch 500 Years of NYC's Skyline in the World Trade Center Time-Traveling Elevators
The station will be nearly finished during its grand opening on Thursday, though no official ceremony will be held when New Yorkers begin pouring into the hub to get from point A to point B. 
The architecture was designed by the engineering and construction company Santiago Calatrava, featuring 160-foot walls, glass panes and angelic white paint. Gizmodo reports in its video that the architecture design was meant to resemble hands opening up to release a dove. 
The Oculus' ceiling will open every year on Sept. 11, as well as on warm days, allowing a cool breeze and fresh air to soar into the hub. 
Check out a time lapse video showing an aerial view of the Oculus' construction, as well as photos of the World Trade Center Transportation Hub being built and after completion, below: