Dolce & Gabbana's New "Slave Sandals" Appear to Be a Colossal Fail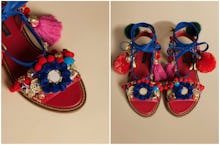 Even as diversity and inclusivity continues to increasingly matter in fashion, some designers and brands continue to miss the mark. Like the time Valentino used almost all white models for its Africa-inspired show, or when the British retailer Asos decided to use a black man to model a T-shirt with the word "Slave" emblazoned across the front.
We can now add Dolce & Gabbana to the list with their new "Slave sandals." Yes, you read that right — and yes, they're selling on the D&G website for a whopping $2,395. 
The colorful sandals, which are fashioned with pompons, mirrored embellishments and gold, come straight from the brand's Disney princess-influenced Spring 2016 runway. But now, Dolce & Gabbana's fairytale is looking more like a nightmare. 
And don't think the internet isn't already all over it: 
According to Footwear News, while the term "slave sandal" has been used previously for this type of shoe silhouette, most other brands tend to go for the far less problematic "gladiator sandal." Because duh. 
While the Dolce & Gabbana website still currently uses the term "slave sandal" for the product, other retailers have refused to, opting for far more literal descriptions of the shoes at hand. Moda Operandi, for example, calls the shoes "pom pom wrap around sandals," and Saks Fifth Avenue has opted for "pom-pom leather lace-up sandals." 
This is the latest in a series of missteps for the brand. Most recently, in January, there was controversy surrounding an ad campaign that featured Chinese tourists in Italy, which some thought was offensive. This coming after major backlash in March 2015 after Dolce & Gabbana's founders Domenico Dolce and Stefano Gabbana calling children born via in vitro fertilization "chemical offsprings and rented uterus" and saying that they "oppose gay adoption."
D&G just doesn't seem to be learning from its mistakes. (Mic has reached out to Dolce & Gabbana for comment.)
h/t Teen Vogue