The 'Ghostbusters' Reboot Disappoints Fans With Disservice to Leslie Jones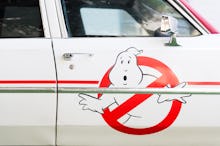 When Paul Feig announced in January 2015 that he would direct an all-female reboot of the '80s classic Ghostbusters, the internet lit up with misogynistic hot takes. But now that the official trailer has been released, those who once applauded the film's gender-bending are taking offense with a new twist.
Spliced between shots of New York City, the trailer opens, "Thirty years ago four scientists saved New York. This summer, a new team will answer the call." The catch? Now there are just three scientists.
The problem? The three scientists will be played by Melissa McCarthy, Kristen Wiig and Kate McKinnon. Leslie Jones, the black cast member, will portray a transit employee. In one scene, Jones' character tells the Ghostbusters, "You guys are really smart about this science stuff, but I know New York."
Many fans expressed their disappointment with Jones' snub on Twitter:
For some, the trailer revealed that while Hollywood may be promoting women in film, its still doing a disservice to women of color:
Watch the trailer here: