Mitt Romney's Donald Trump Speech Has Twitter Wondering Whether It's a Little Too Late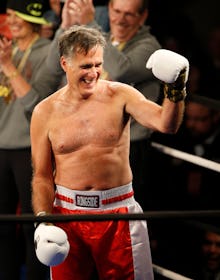 Mitt Romney might have arrived to the 2016 presidential race party a moment too late, according to Twitter. After the former Republican nominee skewered current GOP frontrunner Donald Trump in a Thursday speech from the University of Utah, Twitter reacted by praising his candid and sometimes emotional speech, while simultaneously wondering whether his condemnation of Trump comes too late into the race.
"Pundits [Right now]: Do you think that it would be more effective had Romney made this speech earlier?" Olivia Messer tweeted, following the speech. Others noted Romney's speech on Trump was arguably a more effective way to strike down the frontrunner without endorsing anybody else in the process. 
Read more: Mitt Romney Rips Into Donald Trump: He's a "Fraud"
Other Romney supporters commended the politician for his rhetoric, hoping it may sway the hearts of voters nationwide:
Some imagined what Romney must look like after taking Trump down a notch:
A fellow former Republican nominee stood with Romney, apparently:
Trump fans took the speech rather well, however. The group of voters, which has a knack for turning just about anything into a positive on Twitter, took Romney's scathing speech as a boost for their fearless leader, using many capital letters to express their non-frustration:
Meanwhile, others suspected ulterior motives may be at play behind Romney's last-minute speech: