A 'Mean Girls' Musical Is Really in the Works, According to Tina Fey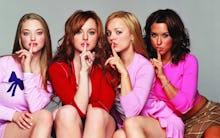 Brace yourselves, because a Mean Girls musical is coming and it's going to be so fetch. Comedian Tina Fey, who wrote and starred in the 2004 teen comedy, confirmed that a musical version of Mean Girls is in the works, Huffington Post reported.
Read: Tina Fey Can't Name 20 Latino Performers on 'Billy on the Street'
"My husband [composer] Jeff Richmond and I, [along with lyricist] Nell Benjamin, have been working on it," Fey reportedly told New York Times culture writer Melena Ryzik during a panel discussion for the Times Talks series on Wednesday.
"So it that still happening?" Ryzik asked, according to the Huffington Post. Fey responded affirmatively, but she cautioned that it was still "years away."
Mean Girls wouldn't be the first comedy film to get the Broadway treatment: A Legally Blonde musical, based on the 2001 rom-com, debuted on Broadway in 2007.
Fey is likely hoping that the legions of Mean Girls fans will shell out money for tickets to see the comedy classic in musical form — but the theatre should prepare for the audience to regularly interrupt the performance by yelling, "You go, Glen Coco."