Kam Chancellor Tries to Buy a Gym, Employees Call the Police on Him Instead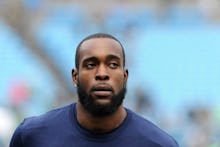 Kam Chancellor plays safety for the NFL's Seattle Seahawks. He also runs a network of fitness boot camps for women. 
On Wednesday afternoon, the 27-year-old took four of his friends to a gym in Redmond, Washington, where he hoped to talk with owners about buying the recently closed facility. Instead, he got the police called on him by two frightened employees.
From Chancellor's Twitter timeline:
According to a police statement, as reported by Deadspin, Redmond Police Dispatch received a phone call at 4:25 p.m. on Wednesday. Two female employees, who were inside a local gym, reported that five adults outside the building were knocking on the door and looking in the windows — "as if they were trying to gain entry."
Of course, Chancellor and his friends were merely trying to get the attention of the employees — as one does at any closed facility with which one hopes to conduct business. Officers arrived shortly after and resolved the situation without incident.
"Our officers got there and had a great interaction with Kam and four other guys," a Redmond PD public information officer told Deadspin. "Super positive. Super nice guy. We didn't even do a police report." 
Chancellor is currently halfway through a four-year, $28 million contract with the Seahawks.
h/t Deadspin