Tina Fey's 'Whiskey Tango Foxtrot' Cast 2 Non-Afghan Actors as Afghan Characters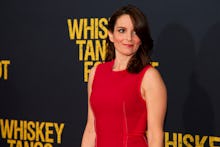 Tina Fey's Whiskey Tango Foxtrot is remarkably good. This is a surprise for myriad reasons — the iffy trailer, Fey's relative lack of luck at the multiplex compared to the small screen — but against all odds, the movie works. It's a smart story about a real woman, journalist Kim Barker, and her surprising professional and personal growth while working in Kabul, Afghanistan.
There's a lot to love about it, including Fey in a more serious role, Margot Robbie as her professional rival and personal friend and Martin Freeman as an unconventional love interest. But there are also exactly two red flags: the casting choices for primary Afghan characters Fahim Ahmadzai (Christopher Abbott) and Ali Massoud Sadiq (Alfred Molina).
Both actors are talented and turn in strong performances. Both actors are also not Afghan. Molina is half-Spanish and half-Italian; Abbott is Eastern European and Portuguese. The choice to cast them is baffling — but maybe not surprising, considering Hollywood apparently still hasn't learned its lesson when it comes to whitewashing.
As of Thursday, there was still no major controversy about Abbott and Molina's casting. Several Twitter users even expressed confusion as to the lack of controversy considering how much vocal outrage there's been about previous examples of whitewashing in Hollywood.
Still, as noted by Flavorwire, Fey did get a question about the casting choices at a Wednesday night talk hosted by the New York Times. According to Fey (who serves as a producer on the film), she did see a controversy brewing and tried to warn directors Glenn Ficarra and John Requa.
"When it came to the role of Fahim, and to Sadiq, I said to them, 'Guys, I beg you to be thorough,'" she said. "'And I beg you to please look, to find an Afghan person if you can.'"
Yet the directors went with Molina and Abbott. "In 2015, in the pool of actors in New York City that [casting director] Bernie Telsey very, very diligently searched through, these were the best people for the role," Fey continued. "I try to make myself feel warm about it in the fact that, y'know, Afghans are Caucasians, it's Caucasians playing Caucasians. If you really wanted to go to the mat on it, you could say it's not any different than, y'know, an Aussie playing a Brit, although I'm sure people feel that it is."
But it's more nuanced than this. The problem arises in Fey's conflation of outdated and modern definitions of "Caucasian." Historically, anyone from England to India was defined as Caucasian; however, the contemporary definition aligns it with two key features: European heritage and light skin.
Whiskey Tango Foxtrot hits theaters Friday. Whether there will be greater controversy after people see the film is up for debate, but it's undoubtedly a shame. The movie is surprisingly good, but these casting decisions may make it impossible for moviegoers to pay attention to anything else.
Correction: March 3, 2016