'Hamilton' Philadelphia: Casting for Burr and Washington — And They Don't Need to Be Male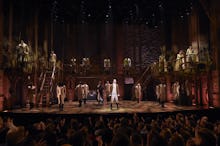 Theo Wargo/Getty Images
Update: March 4, 2016: The original casting call post on Backstage, which initially called for both male and female actors for Philadelphia's Hamilton run, has since been taken down. "We are so excited to find unique and outstanding people for all roles in  all around America but unfortunately, this is not our casting breakdown and does not reflect our current casting criteria," casting director of the Philadelphia production Bethany Knox told Buzzfeed. 
Story follows:
The Grammy-winning, hip-hop hit Broadway musical Hamilton has opened up auditions in Philadelphia in a search for cast members, and it's looking for both male and female performers for the roles of Aaron Burr and George Washington, according to a casting call on Backstage. 
The casting call's talent description for Burr asks for males and females who are between the ages of 20 and 39 years old, and 30 to 49 years old for Washington. For both male characters, performers can be of "African-American, Hispanic, Asian, South Asian, Native American, Middle Eastern, Southeast Asian, Pacific Islander, ethnically ambiguous, mixed race [or] African descent."
Read more: The Cast of 'Hamilton' Just Showed the World Why It's a Modern Theater Masterpiece
Hamilton is known for its diverse cast, in both race and gender. For the production's Grammys performance, writer and composer Lin-Manuel Miranda played Alexander Hamilton, historically perceived as white. To Hamilton fans' delight, during its #Ham4Ham sidewalk performances, the female cast of the play gathered together to spit some verses.