George Clooney Calls Donald Trump an "Opportunist" and a "Xenophobic Fascist"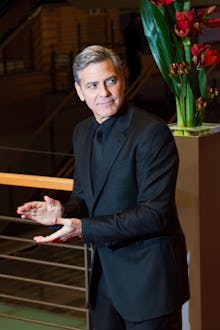 Matthias Nareyek/Getty Images
George Clooney has some strong words for Republican presidential candidate and our nation's foremost internet troll, Donald Trump. While visiting Berlin to promote his latest film, the Oscar critic and winner spoke with the Guardian's Andrew Pulver, dismissing Trump with a few choice and fitting labels.
"He's just an opportunist," Clooney said of Trump's inconsistent tactics. "Now he's a fascist; a xenophobic fascist."
Read more: Donald Trump's Name Takes on New Meaning as Racist Taunt
Over the weekend, Trump retweeted a quote from fascist leader Mussolini — "It is better to live one day as a lion than 100 years as a sheep" — which another user, @ilduce2016, had tweeted at him. When confronted with the quote's provenance, Trump shrugged it off, saying he was aware of the quote's source and found it compelling. Asked if he "wanted to be associated with a fascist," the candidate responded, "I want to be associated with interesting quotes."
The fascist association, however, is the one that stuck, perhaps because it tracks with the comparison of Trump to other infamous figures from the World War II era. This because of his brash and bullying persona, combined with his foreigner-phobic policy proposals: one example is the building of a wall between the U.S. and Mexico, the construction of which he would complete using the conscripted labor of the very people he aimed to keep out; his call for "a total and complete shutdown" on Muslims entering the U.S. is another.
But while many are warning that the country might "be sleepwalking into a Trump presidency," Clooney doesn't seem particularly worried, even if he's irked. 
"Let's put things into perspective," he told Pulver. "You know, the truth of the matter is, in election season, things go crazy, and the loudest voices are the furthest and most extreme. So you hear a massively stupid idea, like we're going to ban Muslims from the country. Now, we're not ever going to do that."
In this case though, Trump's got a substantial support base and he's gaining ground in the primaries; it's entirely possible that he becomes the Republican nominee. Clooney, as one might guess, will not be voting for Trump should it come to that in November. He stands firmly in Hillary Clinton's camp, he told Pulver, but is also a fan of the other Democratic candidate.
"I really love Bernie Sanders, and am really glad he is in the debate," Clooney said. "He is forcing the conversation to things that never get talked about in US politics: disparity between the rich and the poor, which is getting worse and worse every day."
Because George Clooney is about the issues. Thus the second objective of his Berlin visit: he and Amal, a human rights lawyer who is also Clooney's spouse, met with German chancellor Angela Merkel to discuss the refugee crisis. Perhaps it was the clear contrast between Merkel's leadership and the tactics put forth by Trump that prompted Clooney's verbal smack.