Mexico Government on Donald Trump's Proposed Wall: We're Not Paying for It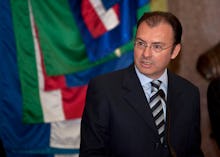 The government of Mexico is finally responding to GOP frontrunner Donald Trump's insistence that the United States will build a "big and beautiful wall" between the two countries — and that Mexico will pick up the tab. But according to Mexico's Treasury Secretary Luis Videgaray, that's "emphatically and categorically" not going to happen.
"Mexico will under no circumstance pay for the wall that Mr. Trump is proposing," Videgaray said Wednesday on Mileno television, according to the Associated Press. This has been the first time the Mexican government has officially responded to Trump's proposal.
Read more: Mitt Romney's Speech on the 2016 Race Was a Scathing Indictment of Donald Trump
In his immigration plan, released in August, Trump stated "the Mexican government has taken the United States to the cleaners. They are responsible for this problem, and they must help pay to clean it up." Trump first proposed the idea of the wall early in his campaign, shortly after he officially announced he was running for president and said Mexico was "not sending their best," but sending "rapists" and "bringing drugs" into the U.S.
"I am not going to pay for that fucking wall," former Mexican President Vincete Fox said during an interview with Fox's Maria Bartiromo on Friday, repeating the sentiment he expressed a day earlier. "I am not."
Trump responded to Fox's comments by saying the wall "just got 10 feet taller" during the last Republican debate. 
Trump has remained the undisputed leader of the GOP presidential race, and his Super Tuesday victory has many believing he will more than likely win the Republican nomination. Fellow GOP candidates have sharpened their attacks on Trump, and former Republican nominee Mitt Romney lambasted him in a Thursday speech, calling him "a phony, a fraud. His promises are as worthless as a degree from Trump University."