How Rodney King's Assault Is Still Shaping Black Activism in Los Angeles 25 Years Later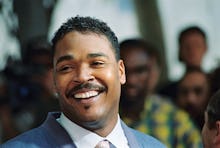 Twenty-five years ago on Thursday, a black motorist named Rodney King was pulled over by Los Angeles police officers in the suburb of Lake View Terrace. 
It was 12:40 a.m. While a bystander named George Holliday recorded the stop on video, four of the officers ordered King and his two passengers out of their car and assaulted the 25-year-old with batons and stun guns, fracturing his skull, breaking one of his ankles and leaving bruises all over his body.
Holliday sold the tape to a local TV station for $500, and the rest is history. Despite nine minutes of overwhelming video evidence, all four officers — three of whom were white, one of whom was Latino — were acquitted of wrongdoing the following year. The verdict caused years of tension between black Angelenos and the Los Angeles Police Department to erupt, culminating in the 1992 L.A. Riots — one of the deadliest and most costly urban uprisings of the 20th century.
Melina Abdullah, an organizer with Black Lives Matter Los Angeles, was a teenager in Oakland when she witnessed the videotaped beating of Rodney King on TV. "Before King, we all had our own police brutality stories," she told Mic over the phone, "but those stories were largely shared within our own families and communities. Rodney King was proof of what was really happening to our people."
Indeed, a lot has changed since March 3, 1991. Los Angeles today is not necessarily the first place Americans think of in relation to police violence. In fact, things seem to be going OK: The LAPD has shrouded itself in a narrative of reform over the past quarter-century, having adjusted some of its more troubling policies and publicized its improved relationship with black people in the city. Meanwhile, Ferguson, Missouri and Baltimore have both seen explosive unrest in the past two years. Police killings in New York City, South Carolina and across the state of Ohio have likewise grabbed the attention of black activists and journalists nationwide.
But don't let L.A.'s relative silence fool you, Abdullah said. "The LAPD has really good PR," she explained. "We can't forget that we're in Hollywood. In general, they've done a very good job of painting themselves as this kind, gentle police department, and really covering over the truth of who they are." 
In fact, she added, tension in the region is still relatively high. Earlier this week, local activists commemorated the anniversary of the killing of Charly Leundeu Keunang — popularly known as "Africa" — an unarmed homeless man who was shot by LAPD officers during a scuffle on March 1, 2015.
Keunang's death was captured on video, but no officer was charged. "We saw on tape how the police brutalized and violated his body and ultimately murdered him," Abdullah said. "Then the police commission found that the officers were operating within department policy in the shooting." 
That's just one piece of the story. Los Angeles police officers killed 21 people last year, a 60% increase from 2014, according to an LAPD report released on Tuesday. The most recent incident occurred in Inglewood on Feb. 21, where two black people — Kisha Michael and Marquintan Sadnlin — were killed by Inglewood police who found them unconscious in a car.
"We're bombarded with so many cases in the Los Angeles area alone," Abdullah said, "like, if they killed 21 people last year, how do you possibly rise up against 21 cases?" 
Meanwhile, Black Lives Matter-L.A. is dealing with legal troubles of its own: Two of the group's members — Luz Maria Flores and Evan Bunch — were found guilty Monday of battery and resisting arrest, stemming from a June 2015 incident where they tried to gain entry to a private meeting to speak with L.A. Mayor Eric Garcetti.
Inevitably, such incidents are heavily influenced by the legacy of King, as are many others across the country. With the evolution of cell phone technology, extrajudicial killings of black people have become a media sub-genre of their own, as the deaths of Walter Scott, Sam Dubose and others catapult what may have been hidden local phenomena into pieces of a clear nationwide pattern. 
So what's the lesson, according to Abdullah? "We can't engage in episodic organizing. It's not just about responding to watershed moments, like King in 1991," she said. "We have to be in a constant state of resistance."
The LAPD did not return Mic's request for comment.