Eleanor Anukam Is Giving Women With Big Feet the Shoes They've Long Deserved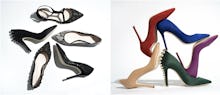 For some people, the phrase "shoe shopping" may conjure up images of indulgent post-brunch excursions with girlfriends, sessions of retail therapy or memories of a certain New York Star columnist cooing, "Hello, Lover." But for women whose foot size falls outside the range of designer norms, shoe shopping brings to mind a different word: headache.
Read more: This App is Revolutionizing How Black Women Buy Makeup
It's a story that will ring too true for too many people, and it was Eleanor Anukam's reality. "I was once the lady that would go shopping with friends and watch them try on and buy the prettiest shoes, while mine came from a basement discount store," she told Mic. 
Most luxury women's shoe designers produce shoes up to a size 11 or sometimes 12, leaving people like Eleanor to fend for themselves. Even as the average shoe size is growing, designers are slow to answer the call for fashionable shoes in an expanded range of sizes.
That is, until Anukam realized she could be the hero of her own story, and while she was at it, save other women from the heartache she knew too well.
After a two-year gestation, Eleanor Anukam's eponymous line launched in December 2015, offering stylish and high-quality heels and flats in women's sizes 9-13. Putting to work her background in marketing and an eye for style she inherited from her mother.
Born in Houston, raised in Lagos, Nigeria, and an experienced world-traveler, Anukam has crystallized her life experiences into a design aesthetic that's at once universally appealing and distinctly her own. "How can one not be influenced by the colors in Brazil or Nigeria? Or the architecture in South Africa? Impossible!" she said.
Getting here wasn't easy. There are prohibitive upfront costs and barriers to launching a shoe line, especially when you're asking manufacturers to literally break the mold. It took a year for Anukam just to find a factory that was ready to make prototypes for the shoes in the sizes she wanted. Once she did find a factory in Brazil, it required months of using translation software to act as her go-between with her Portuguese-speaking suppliers.
Fortunately, these challenges are ones she's been happily overcoming. The business has been growing organically, without advertising buys, by getting the shoes onto the feet of women who appreciate them. Anukam's reward, she said, comes in seeing her designs "appreciated and worn by people. The idea that this shoe started with a sketch, and is now gracing the feet of some of the most stylish women is mind-blowing," she said.
Another mind-blowing moment? Seeing actress and LGBTQ advocate Laverne Cox step out in Anukam's shoes, after Cox's stylist reached out to her. The wider fashion world is still deeply tied to a sizing system rooted in gender binarism. In addition to women, brands like Anukam's provide much-needed access to sizing for trans and gender non-conforming people who want to rock a pair of heels without sacrificing style or quality. Her hope is that getting Cox in her shoes will get the word out to a community whose needs she wants to meet.
According to Anukam, it's very common for a client to receive her shoes and immediately post on social media, or email the company, just to share her excitement in having beautiful shoes that fit correctly. A video reposted on the company's Instagram documented an elated customer peeling back layers of packaging, each layer stamped in gold with Anukam's looping signature. There's a obviously personal touch to the line that's not lost on the clientele.
Early on, a lawyer tried to dissuade Anukam from using her own name, which she flatly refused. "This is essentially me. I put in everything I dreamed into this," says Anukam. As a nod to her background, each style in the line bears a Nigerian woman's name and reinforces that these shoes were designed with their intended wearers in mind. "These women are physicians in France, style mavens in Nigeria, professionals in the USA," she said. "There are housewives and celebrities wearing [Eleanor Anukam]."
As Anukam tells it, starting a line of designer footwear was "purely based on necessity." Judging by the response so far, it's clear lots of people agree that quality, stylish footwear is a necessity they've been waiting for someone to provide.