This Russian Man Is Facing Jail for Admitting He Doesn't Believe in God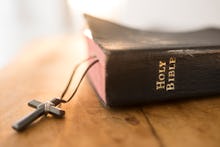 Viktor Krasnov is nothing if not a cautionary tale of how to not use the internet in Russia — and what not to believe.
The 38-year-old is facing up to a year in prison in the southern Russian city of Stavropol for admitting he didn't believe in God on European social networking site VKontakte in 2014, Russian Cosmopolitan reported.
Read more: India Just Banned 857 Porn Websites, Sparking a Massive Censorship Debate
"If I say that the collection of Jewish fairytales entitled the Bible is complete bullshit, that is that. At least for me," he wrote, according to Agence Presse-France. In a followup comment, Krasnov wrote: "There is no God!"
The case against him began after someone who disagreed with his views filed a formal complaint, stating Krasnov was "offending the sentiments of Orthodox believers," AFP reported.
Krasnov was forced to stay in a psychiatric facility for a month, while medical professionals determined whether or not he was insane, reported NBC .
He's been charged by the country's federal investigative agency with "offending believers' feelings," according to NBC. The act was deemed a crime following Pussy Riot's 2012 performance at the Cathedral of Christ the Savior in Moscow, when the band took a stand against Russian President Vladimir Putin and the Orthodox Church. The band members were sentenced to two years in jail.
Krasnov's trial is ongoing. But given the Russian government's history of censorship — which has been on the rise under Putin — it's unlikely Krasnov will get off scot free. 
Watch Pussy Riot's protest performance here: