Can You Find Waldo in This Real-Life 360-Degree Interactive Scene?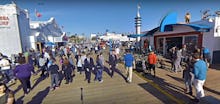 YouTube
By now, you've mastered finding Waldo in a two-dimensional book. 
But can you find Waldo in a 360-degree panoramic video on in Santa Monica on a Sunday afternoon?
Is he here?
Or here?
Or here?
YouTube channel CorridorDigital used five go-pros and one real-life Waldo to re-create the Where's Waldo game in 360-degree video. 
Good luck finding Waldo now: