Mariska Hargitay, Courteney Cox and More Star in PSA About Male Survivors of Sexual Abuse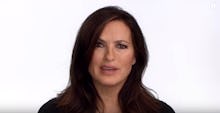 Law and Order: SVU star Mariska Hargitay has a powerful message to male survivors of sexual abuse: You are not alone. A new PSA from Hargitay's Joyful Heart Foundation uses a team of famous faces to amplify the message that men can be survivors of sexual assault too — and it's time for everyone to stop making excuses and start talking about it.
Read: 6 Men Read Sexual Assault Survivors' Stories in Powerful Video
In the video, released this week, Debra Messing, Courtney Cox, Natasha Lyonne, Tim Gunn and other familiar celebs address the camera, echoing the phrases that keep us from openly addressing the experiences of male survivors, like "Boys will be boys," "It's just a women's issue," and "That doesn't happen to guys."
Several of Hargitay's SVU co-stars are among the celebs who appear in the video, including Christopher Meloni and Ice-T. The video ends with the statistic that one in six men are survivors of childhood sexual abuse.
According to a press release from the Joyful Heart Foundation, "We're sharing a powerful message for the 21 million men who are survivors: you are not alone."