Watch the 'Hamilton' Leading Ladies Rap, Sing and Recite Feminist Quotes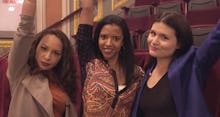 "We hold these truths to be self-evident, that all men are created equal/ And when I meet Thomas Jefferson/ I'm 'a compel him to include women in the sequel!" Angelica Schuyler sings about the Declaration of Independence. 
This is one choice feminist moment from Lin-Manuel Miranda's Hamilton, the hip-hop musical that has given a voice to the women who had a crucial role in the founding of the country, and also have stories of their own to tell.
In honor of Women's History Month, Glamour invited actresses Phillipa Soo, Renee Elise Goldsberry and Jasmine Cephas Jones, who play the Schuyler sisters in the original Broadway cast of Hamilton. They created beautiful music out of a series of feminist quotes.
Opening with a brief rendition of Beyoncé's "Run the World (Girls)," the three beatboxed their way through a Margaret Atwood quote.
Goldsberry belted a line about intersectional feminism from black radical feminist, poet and civil rights activist Audre Lorde:
And the trio simply recited these words from bell hooks from her book Feminism is for Everybody:
Watch the whole video here:
Source: Glamour