Caitlyn Jenner to Ted Cruz: I Want to Be Your Trans Ambassador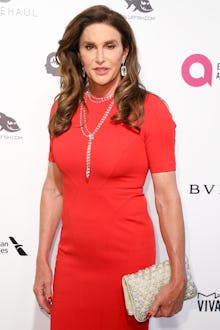 Once a new president is elected, there will be an entire Cabinet to fill and if transgender activist Caitlyn Jenner has her way, she'd be a trans ambassador for presidential hopeful Sen. Ted Cruz. 
In an interview with the Advocate, Jenner recounted meeting Cruz prior to her transition. She said she hopes she could play a role in his presidency, if he were elected. 
"Wouldn't it be great, let's say he goes on to be president," Jenner told the Advocate. "And I have all my girls on a trans issues board to advise him on making decisions when it comes to trans issues. Isn't that a good idea?" 
Jenner said she liked Cruz because he was "very conservative, and a great constitutionalist, and a very articulate man." 
Though Jenner understands that Democrats are probably better on trans issues, she said that she can't exactly see the country moving forward with a democratic socialist like Bernie Sanders and that if trans people want jobs, they should be looking to Republicans. 
"Number one, if we don't have a country, we don't have trans issues," she said. "We need jobs. We need a vibrant economy. I want every trans person to have a job. With $19 trillion in debt and it keeps going up, we're spending money we don't have. Eventually, it's going to end. And I don't want to see that. Socialism did not build this country. Capitalism did. Free enterprise. The people built it. And they need to be given the opportunity to build it back up."
Some people might differ with Jenner on her recounting of who built the United States, or think she needs to revisit her definitions of capitalism and socialism. But Jenner is correct in one regard. Economic empowerment is the one of the best ways to help transgender people nationwide. 
"In terms of policy changes, transgender people need to be protected from discrimination in every part of their life from the classroom to employment to housing," Chai Jindasurat, co-director of community organizing and public advocacy at the New York City Anti-Violence Project, told Mic in an earlier interview. 
While neither Democratic presidential hopefuls have made extensive promises to the transgender community, they have at least paid lip service to them. 
However, Cruz has spoke on transgender issues — and what he's had to say has been extremely derogatory. After the Colorado Springs shooting in November, Cruz misidentified the shooter as a "transgender leftist activist." He also supports having transgender students use faculty bathrooms, so they don't have to "inflict" other teens. 
Jenner also indirectly responded to comments she made in December to Time, in which she insinuated that transgender women should work hard to look feminine because people who look too masculine make others uncomfortable. The comments drew the ire of the trans community. 
"I think it's important for this community to present yourself well, to feel good about the way you look," Jenner told the Advocate. "If you walk out the door, and you feel good about the way you look, no matter what that look may be, for you, you feel good. I like that feeling."