Donald Trump Responds to Mitt Romney's Scathing Speech, Blasts Him as a "Failed Candidate"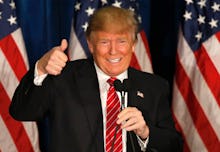 Republican presidential frontrunner Donald Trump forcefully hit back at Mitt Romney on Thursday, hours after the 2012 GOP nominee damned Trump as a "con man" who is "playing the American public for suckers."
In a long digression during a campaign rally in Portland, Maine, Trump lambasted Romney as a "failed candidate" who should never have lost his campaign against President Barack Obama, also accusing the former Massachusetts governor of misrepresenting his record as a businessman and entrepreneur.
Read more: Mitt Romney's Speech on the 2016 Race Was a Scathing Indictment of Donald Trump
"Mitt was thinking about running again," Trump said, referring to Romney's brief contemplation of a 2016 run. "He ran a horrible campaign. It was a campaign that should have never been lost. You're running against a failed president."
"He came up with the 47%," Trump continued, laying into Romney for 2012 remarks in which he accused nearly half the country of being dependent on government handouts. "He demeaned 47% of the people in our country —   right? The famous 47%."
Trump was one of Romney's most prominent endorsers that year — a point Romney chose not to note during his speech Thursday morning. But Trump was eager to remind voters of that history.
"I backed him, you can see how loyal he is. He was begging for my endorsement," Trump said. "I could have said, 'Mitt, drop to your knees.'  He would have dropped to his knees. He was begging."
Meanwhile, Trump took umbrage at Romney's attacks on his business record — typified by the zinger, "His promises are as worthless as a degree from Trump University."
Critics like Romney "don't want to talk about the Bank of America building," Trump said, referring to one of his properties in San Francisco. "They don't want to talk about the West Side railroad yards where I built a city on west side of Manhattan — tremendous city on the west side of Manhattan."
And voters shouldn't buy Romney's critique of Trump's economic policies, he said, because Romney (estimated net worth: roughly $250 million) was worth less than Trump ($4.5 billion, per Forbes; $10 billion according to Trump himself).
"So one of the things that Mitt brought up, which I think is so serious, he said about trade, we have to keep trade. Nobody knows more about trade than me," Trump said. "I made so much more money than Mitt. I have a store that's worth more money than Mitt," he continued, referring to his Gucci store on Manhattan's Fifth Avenue.
The performance was quintessential Trump: Brash, unapologetic and no holds barred — a pointed contrast to the temperament of the GOP's mild-mannered standard-bearer of 2012.