Tribeca Film Festival Announces 2016 Lineup, Features Kristen Stewart, Nicholas Hoult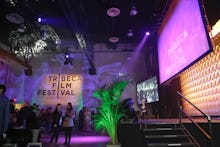 The Tribeca Film Festival announced the first 55 movies in its anticipated 101-film slate for 2016, featuring films movie buffs are already dying to see. The announced lineup includes both national and international narratives, documentary competition programs and viewpoints, in which some of the most avant-garde films are featured. 
The films at this year's Tribeca Film Festival include notable stars, including Kristen Stewart and Nicholas Hoult in Equals, a film directed by Drake Doremus set in a future dystopian society where human emotion is banned, according to Vulture. 
Read more: Trans Actress Mya Taylor Wins Best Supporting Actress At Film Independent Spirit Awards
Tom Hiddleston stars in High-Rise, the story of a city where social classes are built into its very buildings, creating a divide among separate socioeconomic statuses.
Fortunately, the festival likely won't be receiving the same clout of controversy brought on by the Oscars' lack of diversity. 
"One-third of this year's features are directed by women," Tribeca Film Festival noted in its announcement. "Furthermore, 12 women directors and screenwriters are eligible for the Nora Ephron Prize, Tribeca's award designated for women who embody the great filmmaker's trailblazing spirit."
Check out the full set of movies premiering at the 2016 Tribeca Film Festival here.