How Old Was Kim Kardashian West When She Made Her Sex Tape, Her TV Show and Her Money?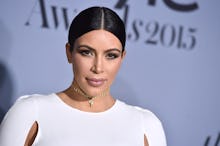 Jordan Strauss/AP
Full disclosure: the following information is likely to make readers feel deeply unaccomplished. Kim Kardashian West — famous for creating an empire with herself as the product — has, in her 35 years, amassed an $85 million fortune. How did she do it? By leveraging a key moment — the release of her sex tape — into reality television fame on Keeping Up With the Kardashians. The young age at which she did these things is really the kicker.
Read more: The Kim Kardashian Age: When Did It Begin and When, Oh When, Will It End?
How old was Kardashian when she made her lucrative sex tape, her TV show and subsequently, her many millions? Let's investigate. 
2003: Kim Kardashian makes her sex tape.
Kardashian recorded the infamous sex tape with then-boyfriend Ray J in 2003, when she was 23 years old. At the time, she was on the fringe of fame, famous by extension, maybe, working as a closet organizer to the stars. Among her clients were Cindy Crawford, Paris Hilton and Brandy, Ray J's sister, through whom the introduction was made.
Allegedly because Ray J and Kim leaked it as part of a plan to establish their careers, Kardashian's sex tape landed online in 2007, when she was 27. She reportedly won $5 million in a subsequent lawsuit against the company that distributed the film and continues to make royalty money off the tape.
2007: Kim Kardashian's sex tape leaks, and Keeping Up With the Kardashians airs.
In May 2014, seven years after the tape made its way into the public eye, TMZ reported that Ray J had received nearly $47,000 from just four months of profits that year. According to TMZ, Kardashian makes at least as much. So there's that slowly accumulating side fortune, which dubs 2007 the year in which Kardashian started making bank in earnest.
2007 was also the year that Keeping Up With the Kardashians premiered. Fast forward three years, and the family was making some $65 million off the hit reality TV show and endorsements and appearances. In 2015 the family reportedly signed a $100 million deal to keep the show running for another four years; 30% of those dollars reportedly went to Kim. 
To summarize: 2007 was a decisive financial moment for Kim Kardashian.
2009 to 2012: Kim Kardashian joins the social media age.
While the Kim Kardashian name was certainly a cash magnet of a label to slap on any product even before Instagram celebrity became a thing, the age of social media is a fortunate one for product endorsements. She joined Twitter in 2009, when she was 29, and is said to get $10,000 per tweet; she joined Instagram — endorsement money dreamboat — in 2012, when she was 32, and currently has over 62 million followers. Kardashian reportedly charges $75,000 to $1 million for the privilege of associating her face with a brand. 
The moral of the story: Kim Kardashian started making her millions in her mid-twenties, seemingly without strenuous effort on her part, even before meeting Kanye West in 2012. Don't let the weight of her apparently not-so-hard-won success crush you.