Nicki Minaj's Height: Why Women Still Have Miles to Go in the Hip-Hop Industry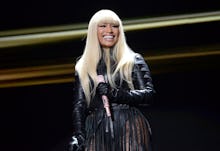 Scott Dudelson/Getty Images
Grammy-nominated Nicki Minaj is one of today's fiercest female rappers, spitting game both in and on the music industry. But far too often, it's Minaj's body (rather than her whole self) that falls under the media's spotlight. Despite the "Anaconda" rapper's achievements, many wonder and hypersexualize her weight, height and her famous backside.
"I'm naturally petite, but I definitely struggle with keeping those extra pounds off," she told Allure in 2012, as one of the few times she spoke about her height, according to Vibe. "And I hate working out. I can't stand being on a treadmill. That mentally irks me. When I need to lose a few, I just cut out sugar and starch."
Read more: 17 Times Nicki Minaj Perfectly Shut Down Sexism
Nicki Minaj stands at 5-foot-4, according to the International Business Times. Yet she never makes her height or weight a point —  those measurements have no point to her career, after all, and focusing on them merely reveals the double standard Minaj constantly faces. Rather, Minaj endorses owning her body and sexuality with glaring confidence, resulting in some applauding her as a barrier-breaking feminist icon. 
In 2010, only three women were signed to major labels in regards to hip-hop, according to NPR. Hip-hop is an industry especially built on "demeaning and degrading women," making the scope towards female rappers limiting.  
"There's nothing wrong with speaking my mind, as long as when the song cuts off I'm still a businesswoman and I still respect myself," she told V magazine. "That's where the true balance lies in my life. Women should be allowed to be as hardcore and sexual as we want, because men do it all the time."
Minaj's 2014 "Anaconda" video was definitely NSFW, but also regarded as "radical," and set to break down stereotypes on black women by facing them head-on, according to the Guardian. But mostly, Minaj's body was at the center stage of criticism. "With a video like 'Anaconda,' I'm a grown-ass fucking woman!" she told Rolling Stone in 2014. "I stand for girls wanting to be sexy and dance, but also having a strong sense of themselves. If you got a big ol' butt? Shake it! Who cares? That doesn't mean you shouldn't be graduating from college."
Minaj also told V  about how if "a man did the same video with sexy women in it, no one would care." She later added that the video for "Anaconda" was telling the "whole industry to go fuck themselves."