Judd Apatow Doesn't Get Why Zoe Saldana's Nina Simone Is Disappointing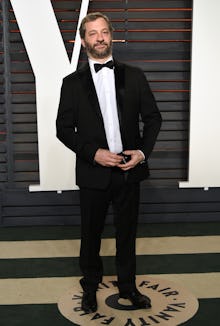 Judd Apatow has weighed in on the controversy surrounding Zoe Saldana's makeup in the new Nina Simone biopic Nina, and his followers are none too pleased.
Apatow was responding to a Rolling Stone story quoting a tweet from the late Simone's estate telling Saldana to "please take Nina's name out your mouth." The Trainwreck director sarcastically commented that "actors should only be allowed to play themselves" and that it's "offensive to pretend to be other people."
The backlash was swift and strong, with Twitter users criticizing Apatow for speaking on a subject he presumably knows little about.
Several users even turned the tables on Apatow's own work, criticizing his often monochrome casts filled with actors playing facsimiles of themselves (see: 2009's Funny People).