Everything You Missed From the Republican Debate in Detroit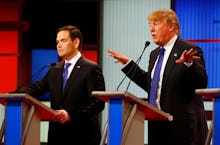 Donald Trump faced some of the toughest attacks — and questions — of his career as Republican presidential frontrunner Thursday, defending his record to opponents and moderators both in the cycle's 11th GOP debate.
The candidates came to Detroit ready to rumble: Trump arrived with a bevy of Super Tuesday wins under his belt, but also under heavy fire from 2012 GOP nominee Mitt Romney, who called him a phony and a danger to the country in a scathing morning speech in Utah.
Ted Cruz and Marco Rubio stayed on his case throughout the two-hour dogfight, taking turns attacking Trump for everything from his penchant for personal insults to his policies and record on immigration and job creation.
John Kasich, the fourth man on the stage given Ben Carson's decision to bow out of the Fox News Channel showdown, tried to stay somewhat above the fray, looking ahead to the coming contests in his home state of Ohio and in Michigan.
We kept track of the debate's most significant moments below.
1. Trump defended his manhood.
If you thought the one thing this election was missing was more penis jokes, Trump's got you covered.
After Marco Rubio defended his sharpened personal attacks on Trump by alleging that the businessman had sent the race down the path of insult and invective, Trump hit back hard.
"Well, I also happen to call him a lightweight, OK. And I have said that," he said. "So I would like to take that back. He is really not that much of a lightweight. And as far as — and I have to say this, I have to say this. He hit my hands. Nobody has ever hit my hands. I have never heard of this. Look at those hands. Are they small hands?"
Then Trump went — well, below the belt.
"And he referred to my hands: If they are small, something else must be small," he said. "I guarantee you there is no problem. I guarantee you." — Luke Brinker
2. Trump on Rubio: "This little guy..."
Trump got heated when challenged by Rubio about the fact that items from his signature clothing line are made in China — despite the frontrunner's insistence that he'll bring jobs back to the United States from overseas.
"This little guy has lied so much," Trump sneered, mocking Rubio's stature. (Trump has been reported as standing 6 feet, 2 inches, although he's said he's actually 6 feet, 3 inches, while Rubio has been reported as 5 feet, 8 inches and also 5 feet, 10 inches.)
"Here we go," Rubio said with a half-smile.
Trump — who lost his clothing deal with Macy's after early campaign comments about rapists and drug dealers entering the U.S. via the southern border — actually agreed to change his business approach to overseas outsourcing.
"I will do that — and by the way I have been doing it more and more," he said, arguing that Mexico and China "devalue their currencies and they make it impossible for clothing makers in this country to do clothing in this country."
Rubio wasn't buying it: "The reason he makes it in China or Mexico is because he can make more money on it."
Trump kept up the needling when Rubio said the frontrunner wasn't in the mood to give straight answers:  "Don't worry about it, Little Marco."
"Let's hear Big Donald," Rubio replied. — Celeste Katz
3. Chris Wallace tried to explain math to Trump.
While Trump has claimed that his plan to allow Medicare to negotiate drug prices with pharmaceutical companies would save the country $300 billion annually, moderator Chris Wallace presented the businessman with some inconvenient figures.
"You say that Medicare could save $300 billion a year negotiating lower drug prices. But Medicare total only spends $78 billion a year on drugs," Wallace noted. "Sir, that's the facts."
When Trump doubled down on the $300 billion figure, Wallace persisted in challenging Trump: "The only drugs we pay for is through Medicare."
Pivoting toward his self-styled role as a negotiator and dealmaker, Trump responded, "I'm not only talking about drugs I'm talking about other things. We will save $300 billion a year if we properly negotiate. We don't do that we don't negotiate. We don't negotiate anything." — Luke Brinker
4.   Trump said he won't release the recording of a conversation with the New York Times on immigration.
The frontrunner told Fox moderator Megyn Kelly in their first major interaction since last August's debate dustup that he would not release tapes of a meeting he had with the New York Times.
During that sitdown, Trump reportedly said his hard-line stance on immigration — including support for mass deportations and a U.S.-Mexico border wall — is basically a candidate's false front.
"No, I would not do that I don't think," Trump said when asked about disclosing what went on in that meeting.
"If I deal with you off the record, [I] have too much respect for that process to say, 'Just release everything,'" Trump said. "I would not do that." — Celeste Katz
5. Trump: "I'm softening my position" on visas for highly skilled workers.
It's not uncommon for candidates to flip-flop — or, in more generous parlance, "evolve" — on issues. It's far less common to see a candidate for office do so on live television.
But that's precisely what Trump did when Megyn Kelly questioned him about his stance on visas for highly skilled foreign workers. Trump defended those visas in a previous debate, she noted, but his website still criticizes them.
"I'm changing. We need highly skilled people in this country. If we can't do it, we will get them in. And we do need, in Silicon Valley, we absolutely have to have [visas]. So we do need highly skilled," Trump said. "One of the biggest problems we have people will go to the best colleges, they will go to Harvard, to Stanford to Wharton. As soon as they are finished, they get shoved out."
Given the chance to clarify whether he was discarding his website's position, Trump said, "I'm changing it and I'm softening the position because we have to have talented people in this country."
But GOP voters should still trust him to follow through on his hard-line immigration proposals, the frontrunner said.
"I'm not playing to anybody's fantasies. I'm playing to the fact that our country is in trouble," Trump said. "We have a tremendous problem with crime. The border is a disaster. It's like a piece of Swiss cheese, and we're going to stop it. We're going to it be stopping people from coming into our country illegally. We're going to stop it." — Luke Brinker
6. Megyn Kelly owned Trump by using his own words.
Kelly went to the videotape — literally — to confront Trump about his reputation as a man who speaks the truth.
"Mr. Trump, one of the things people love about you is they believe you tell it like it is. Time and time again in this campaign, you've actually told the voters one thing only to reverse yourself within weeks or even sometimes days," Kelly said before playing three clips of Trump to illustrate his flip-flops during the course of the race.
The clips showed Trump calling it a "mistake" for the U.S. to go into Afghanistan and then backing off; Trump reversing himself on accepting Syrian refugees; and reversing himself on whether former President George W. Bush made a mistake by invading Iraq.
Trump attempted to explain his changes of heart, summing up with, "Megyn, I have a very strong core. I have a very strong core, [but] I've never seen a successful person who wasn't flexible, who didn't have a certain degree of flexibility." — Celeste Katz
7. Kelly got Trump on his heels over Trump University.
Forcefully challenging Trump's contentions that Trump University, his online education initiative, was on the up-and-up, Kelly rattled the frontrunner with her persistent line of questioning.
"Trump University, a business that you started, and it was marketed to many people and now there is a class action of over 5,000 plaintiffs against you, Mr. Trump," Kelly began. "It involves veterans, it involves teachers and it involves so-called middle guy, working class, lower working class, middle class who say they were fleeced, who say it was a scam."
Repeating his standard defense of the initiative, the candidate responded that Trump University boasted a 98% approval rating and an A from the Better Business Bureau — but Kelly said those claims didn't withstand scrutiny.
"The rating from the Better Business Bureau was a D-minus — the last publicly available rating, in 2010. It was the result of a number of complaints," Kelly said. While Trump said the rating had subsequently been elevated to an A, she noted that no such grade had ever been made public.
"You made the same argument about 98% of the people being happy with Trump University," Kelly continued, but she cited the case of a woman who claimed she'd completed the satisfaction survey "while someone was standing over her shoulder."
Trump wasn't having it.
"Give me a break," he said, vowing he'd prevail over the plaintiffs in court. — Luke Brinker
8. Rubio said Trump was "doing yoga" because he's so flexible.
Cruz and Trump sparred over the frontrunner's conservative credentials on supporting the Second Amendment, but Rubio may have had the last laugh in the exchange.
"Breathe, breathe, breathe," Cruz said as Trump tried to turn the line of attack around by anchoring Cruz to Supreme Court Chief Justice John Roberts and his rulings on the Affordable Care Act. "You can do it. You can breathe... I know it's hard. But just — "
"When they're done with the yoga, can I answer a question?" Rubio interjected.
"I really hope we don't see yoga on this stage," Cruz objected.
Rubio saw his chance to sting Trump as a flip-flopper: "He's very flexible, so you never know." — Celeste Katz
9. Rubio, Cruz and Kasich promised to support Trump if he's the nominee.
Despite the brawling, Trump's foes, to a man, pledged to support him if he ends up the party's choice to carry the GOP flag into November.
"I will support the Republican nominee because the Democrats have two people left in the race. One of them is a socialist... The other one is under FBI investigation," Rubio said of Bernie Sanders and Hillary Clinton, respectively.
"Yes," said Cruz. "Because I gave my word that I would, and I do what I said I would do."
Kasich also said he'd support the party's pick, although "I think before it's said and done, I'll be the nominee."
Trump, who once held out on promising not to launch an independent campaign if he couldn't win the nomination, also reiterated his pledge to support the nominee. — Celeste Katz