Kendrick Lamar Just Surprise-Dropped a New Album, 'Untitled Unmastered'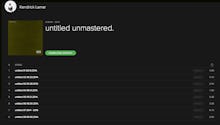 Mic/Spotify
Grammy award winning rapper Kendrick Lamar surprised-dropped a new album, Untitled Unmastered, Thursday night. The new music comes after details of the album appeared to be suspiciously leaked onto Spotify earlier in the evening. Lamar tweeted a link to the album, which is available on iTunes, music streaming service Tidal and Spotify.
The album comes after Lamar's critically acclaimed 2015 album, To Pimp a Butterfly.
Read more: Kendrick Lamar Got Unforgivably Snubbed Again at the 2016 Grammy Awards
Untitled Unmastered has eight songs, all of which are "Untitled." 
Music streaming service Tidal tweeted a photo of the Untitled Unmastered album art before Lamar officially dropped it himself. 
Lamar was recently awarded the Grammy awards for best rap performance, best rap/sung collaboration, best rap song and best rap album at this year's annual awards show, in addition to credits on his contribution to Taylor Swift's "Bad Blood," which won the award for best music video.
March 3, 2016 10:50 p.m.: This article has been updated.