Meet Brichibi Cosplay, the Queer, Plus-Size Diva Taking the Cosplay Scene by Storm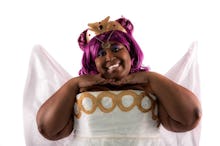 Picture a cosplay convention. Are you picturing a place filled with socially awkward misfits who are more comfortable in the company of gadgets and video games than people? Let us also guess: You're not picturing a queer plus-size woman of color among the attendees. For Briana Lawrence, however, this is her reality.
Read more: Louis Vuitton's Latest Model Is a Video Game Character — And It's Brilliant
Over the years, cosplay — the practice of dressing up as characters from video games, films, books and comics — has acquired a somewhat spotty reputation. In addition to the eyebrow-raising sense of pageantry intrinsically tied to hundreds of costume-bedecked adults gathering together, there have been increasing concerns about racism, sexual harassment and even assaults at cosplay conventions.
The serious nature of these issues might make one question being involved. But for Lawrence, 32, cosplay became a hideaway where her interests felt normal, even when the outside world didn't view them as such.
"When I was growing up, being a geek was one of the many things that made me the butt of the joke," she told Mic. "I was also plus-size and there was a perception that fat people were somehow unappealing, unlovable and always eating. Even today, there's still a stigma that to be a geek means you lack social skills."
It was also a place where clothing took on a whole new meaning.
Lawrence's first encounter with cosplay came in 2001 while she was still an 18-year-old student at Iowa State University. Through writing fan fiction online, Lawrence met Jessica Walsh (aka Snow Tigra), her now partner, who introduced Lawrence to her first cosplay convention, Anime Central, in 2002.
It wasn't until two years later that Lawrence went from being a convention visitor to a costumed participant, despite fears of not fitting in within the world of cosplay.
"I didn't know any other black people who cosplayed and didn't have many black geeks in my circle, since there was this idea that you had to act a certain way to be 'black enough,' and nothing I did seemed to fit those qualifications," she said. "It didn't help that there were so few black characters, and even fewer black plus-size characters. So basically I stood in the bathroom thinking I was about to do this very white thing dressed as a character who wasn't even black."
A gentle pep talk from a friend finally encouraged Lawrence to tamp down her reservations and go for it. Having a first experience that involved dressing as a character who was very tall, very slender, and very white also taught Lawrence a very important lesson: She didn't have to limit herself to characters who looked like her. Despite what anyone might say, she realized she was perfectly free to cosplay whoever she identified with or whoever she just found fun or interesting.
"Finding a plus-size, black woman in geek culture is no easy task, and even then, there's the matter of whether I like their outfit or not," she said. "I realized if I sat around and waited for characters who looked like me I wouldn't be able to cosplay nearly as much as I do. Now I base my decisions on who I like, which usually reflects what geek thing I'm into at that time."
The few statistics that do exist suggest there is a glaring disparity in the cosplay participant pool. A 2013 survey first shared at GeekGirlCon and published through the Daily Dot polled 966 participants in total, revealing an enormous disparity in racial and ethnic diversity. Surveyed participants overwhelmingly identified as white — 81.2% to be exact. A mere .8% identified as African-American or black.
"I've had people say things without realizing what they're doing. They'll make comments like, 'You're not like other black girls,' and stuff. I've also seen amazing cosplay groups be reduced to racist memes that get shared around for laughs."
Body-shaming and other forms of bullying aren't far behind. One particular bout of cyberbullying 2013 led Lawrence to write an xoJane article that went viral with over 23,000 shares.
But channeling brave, outgoing characters gave Lawrence the confidence to ignore comments that suggested she should somehow want to cover up or not be seen because she was plus size. At one point she even decided to dress as Princess Peach, one of her favorite characters in the Mario game franchise. 
As a passionate childhood hater of dresses, it was cosplay that finally brought Lawrence around to the idea that some of the very fashion items she'd associated with being restrictive and representative of a style that wasn't her own weren't actually all that bad.
 "Cosplaying different princesses I admire gave me a love for ball gowns and cute dresses," she said. "My mother still says she can't believe this is me. I think she still remembers me glaring at her over the concept of makeup when I was getting ready for prom. I step out of my comfort zone more in cosplay. There are so many things you're told not to do as someone plus-size, and I feel like I just say 'screw that' a lot in regards to cosplay."
The support she received after she shared the experience on XoJane was overwhelming, and through it she was able to meet other cosplayers who also felt underrepresented and, at times, bullied in the community.
These days Lawrence advocates for women of color, plus-size and queer cosplayers within the community, hosting panels discussing her experiences. In February, she participated in #29DaysofBlackCosplay, an annual social media event tied to Black History Month that spotlights people of color in cosplay.
"Black cosplayers do wonder why they sometimes still aren't included.," Lawrence said. "Back when I was growing up, people may have gotten away with, 'I didn't know,' but not now. We're here and we're not hard to find. Anyone who wants to go out there and cosplay, just do it. Will you have to deal with hate? Possibly, but you aren't the only one who does, and you don't have to deal with it by yourself. Focus on the positives. Focus on the fun. Focus on you."