This Soup Kitchen Offers Guests Dignity by Giving Them the 5-Star Treatment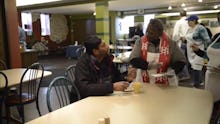 You've probably never seen a soup kitchen like this before — and that's exactly what makes it special.
The Missouri-based Kansas City Community Kitchen is shaking up what it means to be a place where the hungry go for a free meal. In place of lines, there is table service. In place of feeding the homeless, it feeds everyone and anyone — free of charge. 
KCCK, part of Episcopal Community Services, launched its new approach on Feb. 5 to help its guests dine with dignity, providing a restaurant-like experience. 
Read more: How One City's Revolutionary Solution Basically Ended Homelessness
"This place represents what we're about now," Beau Heyen, president of Episcopal Community Services, told the Kansas City Star. "Not only is the food different, but no more long lines and elementary school trays. Our clients will be served like they are in a restaurant."
The restaurant-cum-soup kitchen also prides itself on good quality, healthy meals. 
"Food is a basic human right," Heyen added, explaining they gladly serve anyone who walks through their doors, not just the homeless. "This is about community. We want police officers and firefighters to come in and eat with our clients."
For those who frequent KCCK and are perhaps interested in a culinary career, the center offers free, 12-week vocational training programs. Those who graduate from the program then have the option to work with ECS part-time and build up their résumé. 
"It's different," Brian Oglesby told the Star of dining at KCCK. "They're treating me good, like they don't know I'm homeless."