Kendrick Lamar's Surprise Release, 'Untitled Unmastered,' Has Fans Freaking Out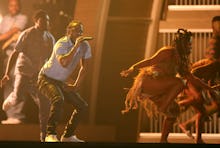 Ace recording artist Kendrick Lamar surprised fans on Thursday with an unannounced album release, an eight-track effort titled Untitled Unmastered, sending fans rushing to music streaming platforms late into the evening. By Friday, many Lamar fans were using social media to impose order on the emotions the rapper's release sparked — and many shared feelings of intense gratitude, supreme awe and praise for the Grammy award-winning artist.
Though unexpected, the album's debut caused a bit of confusion Thursday night. It appeared that music streaming platform Spotify had uploaded the album prematurely, causing some publications to speculate on whether the material had been leaked in error. Not long after, Lamar published a tweet confirming the album's official release. 
The record, which follows 2015's To Pimp a Butterfly, is now available for download on iTunes and is streaming on Spotify. 
Read more: Kendrick Lamar Just Surprise-Dropped a New Album, 'Untitled Unmastered'
In the hours after news hit, Lamar fans had some feelings, which many expressed on Twitter:
There's a lot to unpack on Untitled Unmastered. The tracks themselves are each named "Untitled," followed by numbers one through eight and what appear to be dates ranging from 2013 to 2016. Given the timestamps, it could be that the record is a compilation of unreleased music Lamar's made during the course of several years, though that's yet to be confirmed. 
And as is often the case with Lamar, the album boasts no shortage of genre-blending ballads, seamlessly incorporating soul and funk influences into what would otherwise play as a more conventional rap album. But there's nothing conventional about this album. The record's opening track, for instance, begins the LP on a bold and sultry note. And "Untitled 07," which runs north of eight minutes long, similarly proves Lamar's stepped outside the box with his recent release.
Here's the album, which, according to Lamar's devoted digital following, is seriously lit.