10 Healthy Breakfast Recipes That Actually Taste Good — And Aren't Cereal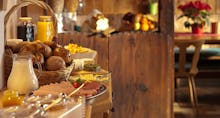 Claudia Viloria/Unsplash
While most are indeed delicious, when it comes to nutrition not all breakfasts are the same. Eating the right breakfast (aka not a greasy one) can help stabilize your blood glucose levels for the day and also support a healthier, more active lifestyle, according to CNN. 
About 80% of Americans still eat breakfast at home, while 10% reportedly skip their sunrise meal all together, according to BBC. In 2013, cold cereal was the go-to breakfast for Americans, with yogurt creeping behind, according to CNBC. But c'mon, we can get more creative than that.
A healthy breakfast contains protein, mostly fresh produce and whole grains, according to Business Insider. However, don't force yourself to eat as soon as you open your eyes. Instead, wait until hunger sets in.
Read more: Here Are 7 Healthy Breakfast Ideas to Make the Night Before
So because the gamut of breakfast doesn't run from sad donut to dry granola bar, below are 10 breakfast options that taste as good as they look:
1. Acai bowl
Start your morning off with a refreshing smoothie bowl flavored with antioxidant-packed açaí powder, milk of your choice, a frozen banana and frozen blueberries. Top with sliced bananas, granola, honey and coconut flakes if you're feeling tropical. Find the recipe here. 
2. Shakshuka with feta
For a saucy and savory breakfast that's perfect for sharing (or not), consider making the Middle Eastern dish called shakshuka. The dish has protein from the eggs baked in a very well-seasoned tomato sauce. Top with feta, dip with bread, be happy. Find the recipe here. 
3. Roasted veg frittata
The beauty of frittatas is twofold: Not only do they packed with protein and other nutrients, but they're also incredibly easy to make. All you do is whisk together eggs and milk, and then throw in whatever else you want before baking for about 25 minutes or until golden. This recipe involves roasted vegetables like sweet potatoes, peppers and asparagus, but you can add any meats or cheeses. 
4. Mason jar parfait
Whether you like it or not, mason jars are both eye-pleasing and convenient. Layer up Greek yogurt or cottage cheese, granola, fresh fruit and drizzle with honey for a breakfast that breaks all those excuses to not eat breakfast. 
5. Baked apples for breakfast
Halve and core an apple, throw it in the oven with a smudge of butter and then top with Greek yogurt, granola, honey and cinnamon if you're into that. Find the recipe here. 
6. Papaya breakfast boats with yogurt and granola
Speaking of halved fruit, slice open a papaya, scoop out the seeds and film with Greek yogurt, chia seeds, granola and the fresh fruit of your choice. Then close your eyes and imagine that it's summer and you're on the beach. Find the recipe here. 
7. Quinoa scramble
Start by cooking vegetables of your choice in a skillet, then add the eggs. Before finishing up, toss in cooked quinoa, which is packed with protein. Find the recipe here. 
8. Greek yogurt pancakes
No one can blame you for not wanting to let go of beloved pancakes, but making them with Greek yogurt can make them a little healthier. Top with fruit. Find the recipe here. 
9. Baked egg avocado boats
For a basically two-ingredient recipe, cut open and de-pit an avocado. Then crack an egg open into a bowl, using a spoon to transfer the egg yolk into the avocado. Then try to transfer over as much egg white as you can without running over. Bake for 10 minutes and season. Find the recipe here. 
10. Zucchini "hash browns"
Replace potatoes with zucchini to give your breakfast hash browns a healthy twist. Find the recipe here.