Kentucky Lawmaker Joseph Fischer Is Trying to Stop Marriage Equality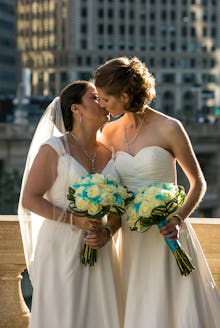 If you've heard representatives of the GOP persistently rail against LGBTQ rights, you would hardly think that public opinion in the United States bolsters marriage equality. Yet same-sex marriage is not only supported by the majority of Americans, but it's a legal right. Kentucky state Rep. Joseph Fischer, however, appears hell-bent on changing that by introducing a new form of marital bliss into which only heterosexual couples may enter and benefit: "matrimony."
The bill maintains that the Supreme Court's decision to legalize same-sex marriage introduced "absolute tyranny" in the United States. Fischer calls for a "new institution of matrimony" built on a "firm reliance on the protection of divine Providence," ThinkProgress reported Wednesday. 
HB 572, or the Matrimonial Freedom Act, essentially seeks to reserve "matrimony" for heterosexual couples, and to further replace "marriage" with "matrimony" as the status to which legal privileges and benefits are currently afforded, according to the report. Not only would this bill create a separate, exclusive status for heterosexual couples, but it would also deny homosexual couples various rights.
The bill, which replaces every legal reference to "marriage" with "matrimony," is 454 pages long. But Fischer helpfully created a shorter version, HB 571, which cuts to the heart of his goal, stating, "Only a matrimony between one man and one woman shall be valid or recognized as a matrimony in Kentucky," according to LGBTQ Nation.
Fischer's bill joins a storied legacy of attempting to deny his constituents their legal rights. In 2014, for example, Fischer amended a bill that expanded protections for survivors of dating violence to include anti-choice language. Fischer argued that abortion is a form of domestic violence, and should be banned after 20 weeks, WFPL reported.
While HB 572 likely doesn't stand a chance considering the Supreme Court ruled that the language of "marriage" was irrelevant to its decision, according to ThinkProgress, it's a pertinent reminder that many conservative politicians are still attempting to curb hard-won LGBTQ victories. GOP presidential frontrunner Donald Trump, for instance, recently said he would "strongly consider" appointing Supreme Court justices who would overrule the court's June decision on same-sex marriage.
Rather than attempt to counter the Supreme Court's ruling, Fischer would do well to remember how Justice Anthony Kennedy interpreted and defended same-sex marriage.
"The nature of marriage is that, through its enduring bond, two persons together can find other freedoms, such as expression, intimacy and spirituality," Kennedy wrote. "This is true for all persons, whatever their sexual orientation."
h/t ThinkProgress