Rihanna's Manolo Blahnik Shoe-Pants Are Forcing Us to Ask Many Questions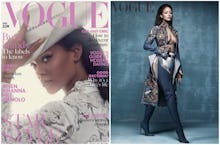 Rihanna, the world's favorite Barbadian bad gal, knows how to dress — and she knows how to make a stir. We all remember the Met Gala. We all remember CFDA Awards. 
So it only makes sense that once Rihanna teamed up with a high-fashion shoe brand, she'd deliver. And oh, did she ever.
In an interview with Vogue U.K., which was released Thursday, Rihanna announced a collaboration with Manolo Blahnik for a line of all-denim-inspired high heels. (Very on-trend, Riri.) She landed a spot on the magazine's cover, which is nice, but it's the spreads inside where she reveals her favorite shoes from the collection. 
And it is... well, just take a look for yourself. 
Immediately, as we continued to stare, we started to think about logistics. Were the shoes connected to the denim coat? Were they connected to a belt? How is this working? How is this happening? Is Rihanna OK? 
After rummaging through the internet, we got some answers. When these long, literally waist-high shoes aren't on Rihanna, this is what they look like: 
Here are shoes that are connected to a belt. They appear to be made of denim, which can be stretchy but also can definitely not be. They also look basically like a pair of chaps but rather than cowboy boots we get spiky heels. 
And we have questions. 
1. Urination. How? 
2. Is there a height requirement for these? 
3. Is Beyoncé contractually obligated wear them on tour by the end of the year? (Because she should be.)
4. What if our thighs are too big?
5. What do you wear underneath? 
6. Do you need an assistant to slip into these? 
7. Who do we have to fight to get them? 
8. Chafing. (That's all.) 
9. Why do you want us to suffer like this, Rihanna? 
To her credit, the other shoes in the collection, which is being called Denim Desserts because of course it is, are pretty standard when it comes to Manolos: 
Strappy, sexy, probably impossible to walk in. Also, apparently the embellishments you see are inspired by her hand tattoos, which are cool as hell. 
The only real downside here is that we're guessing that these shoes will be quite expensive, with Manolo Blahniks sometimes costing more than $4,000 a pop. So expect those shoe-pants to be worth more than your entire life.