Zara's New Ungendered Line Is Clothing for the People — All People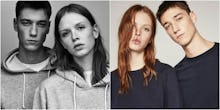 "It is not really on our radar," a spokesperson for Neiman Marcus told Business of Fashion in February 2015 when asked about the brand going genderless. A year ago, they weren't alone in dismissing the idea that genderless fashion would catch on. While high-end labels like Raf Simons and Gucci have embraced the idea of fashion existing outside of the gender binary, mainstream retailers like Neiman Marcus haven't been so keen, likely unable to see their cartoon pupils morphing into dollar signs. Thankfully, the times, they are a-changin'.
Read more: What It Takes to Make a Gender-Neutral Perfume — And Why It Matters
Zara has boldly released its first Ungendered clothing line, further highlighting that genderless fashion is not merely a passing fad but an ongoing revolution.
The line, available on Zara's website, includes T-shirts, tank tops, jeans, shorts, sweatshirts, joggers and sweaters, with no item costing more than $50.
Though modeled by male and female models, the clothing is a welcome acknowledgment of nonbinary individuals and their desire to have items that don't make them feel like they are wearing costumes. The line also reinforces the idea that clothes don't need to be gendered. A comfy chunky sweater is a comfy chunky sweater on anyone — male, female or nonbinary.
Read more: What Our Obsession With Jaden Smith's Stunning Gender Fluid Photo Says About Us
Though brands like American Apparel and North Face have long featured unisex options, the term itself implies the garment is built to be worn by both genders, not acknowledging the idea of anything in between. It might seem like semantics, but for many, this eliminates their identity altogether.
Progress has been made. Last March, Selfridges department store launched a three-floor pop-up that featured a variety of unisex lines. Just last month, Target launched a gender-neutral kids' home collection.
With its new Ungendered line, Zara is acknowledging and celebrating the existence of nonbinary individuals, a big move for a brand with over 2,000 stores in 88 countries. 
h/t Bustle