Kim Kardashian Makeup Tutorial — Here's What It Takes to Look Like a Kardashian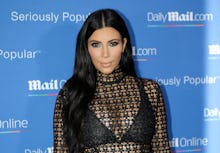 Lionel Cironneau/AP
Kim Kardashian West has one of the most famous faces in the world — so what does it take for her to put it on every morning? If you're interested in copying Kim Kardashian West's look, get ready for a multi-step breakdown of her makeup routine.
Read: I Wouldn't Wish Kim Kardashian West's Beauty Secrets on My Worst Enemy
Beauty vlogger Sona Gasparian, who films makeup tutorials inspired by celebrity faces, created a video back in August showing her followers how to recreate a look from one of Kardashian West's recent Instagram posts.
The whole thing starts with a solid layer of foundation, of course. But the first real step in looking like Kim Kardashian West is the contouring. "We're gonna go ahead and apply the darkest color on the hollows of the cheeks, sides of the nose, forehead and jawline, and then the lightest color on the center of your face and also your under-eye area, but mainly on the cheekbones."
The contouring all gets gently blended in (being especially careful on the nose area), and then Gasparian advises applying a luminizer "on the high points of your cheeks, as well as the center of your face." Then comes blush, applied just to the apples on the cheeks.
Obviously, since the makeup tutorial is inspired by Kim Kardashian, extra attention must be paid to the eyes. Gasparian starts with a shiny, sparkly pink pigment.
Then she goes over the inner corners of the eye and the upper lid with a different eye shadow. Next comes the crease, which gets a "soft brown" color.
Gasparian builds in darker and darker eye shadow colors. Then she applies a first coat of eyeliner on the top and bottom lids, extending the top layer into a cat eye.
Gasparian uses another layer of eyeliner in a different shade to "build intensity" around the eyes, and then several coats of mascara on natural lashes before applying false ones.
Of course you can't forget the eyebrows! Gasparian fills them in with a darker pencil.
Once mascara has been applied on the false lashes, it's time to move on to the lips. Gasparian applies a lip liner and a nude lipstick, then a gloss.
And voilà! This Kim Kardashian West makeup tutorial is complete. Now just repeat every day with minor variances and you'll be Kim K forever.