What Happened to Lucas Goodwin on 'House of Cards'? Season 4 Sees a Familiar Face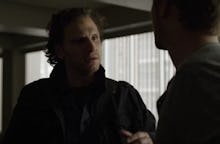 YouTube
The fourth season of House of Cards premiered on Netflix Friday, and will focus on the aftermath of Frank and Claire Underwood's (played by Kevin Spacey and Robin Wright) crumbling relationship in the midst of his bid for the presidency. "In an election year, the stakes are now higher than ever, and the biggest threat they face is contending with each other," Netflix said in a February press release. However, their contentious relationship might also be exacerbated by a tertiary character that House of Cards fans haven't seen in a while: Lucas Goodwin (Sebastian Arcelus). 
Absent for all of season three, Lucas' return to the show in season four could pose a problem for Frank, especially since Lucas Goodwin had played such a prominent role as one of Frank's antagonists throughout season one and two. But what happened to Lucas Goodwin and why was he absent from season three?
(Editor's note: spoilers ahead)
Read more: All of Frank Underwood's Best, Most Evil Advice From 'House of Cards'
Lucas Goodwin was first introduced to the audience in season one as a political editor of the Washington Herald and coworker to Zoe Barnes (Kate Mara). When Zoe resigns from the newspaper to write for political blog Slugline, she eliminates any conflict of interest, and Lucas and Zoe begin to develop a romantic relationship. After they move in with each other, Zoe reveals that she had been having secret trysts with the then-majority whip Frank Underwood in order to gain insider information and further her career.
Throughout season one, Lucas, Zoe and another Herald journalist, Janine Skorsky (Constance Zimmer) devote much of their time investigating Frank Underwood's political rise to power in Washington – eventually, in relation to the suspicious death of Congressman Peter Russo (Corey Stoll). As season one draws to a close, Lucas Goodwin is promoted to editor in chief of Washington Herald after the previous editor in chief, Tom Hammerschmidt (Boris McGiver) is forced to resign by the newspaper's owner.
In season two, Lucas attempts to continue the investigation of Frank Underwood – now vice president – that Zoe Barnes started before she was pushed into a moving train by Frank. Lucas enlists the help of Gavin Orsay (Jimmi Simpson), a hacktivist working for the FBI under the pseudonym HEROnymous Bot, for the purpose of getting incriminating phone records of correspondences between Zoe and Frank. 
Doug Stamper (Michael Kelly), the White House chief of staff, eventually gets word of Lucas' plight. Doug and Gavin collude and manipulate Lucas into participating in cyberterrorism. Lucas Goodwin is eventually forced to accept a plea deal, and is sentenced to jail for ten years. To add insult to injury, none of his former coworkers at the Washington Herald feel compelled to continue his investigations – Janine, who moved to Ithaca to teach journalism at a college, even signs an affidavit testifying against Lucas Goodwin's credibility, further depicting him as a conspiracy theorist.
In season four, Lucas Goodwin appears in the opening episode, "Chapter 40." The entire fourth season of House of Cards is now available on Netflix.