Jenny Beavan Has Spoken About That Jacket, and She's Officially a Fashion Hero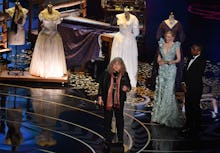 Now here are some words to print out, laminate and hang above your mirror:
"You don't actually have to look like a supermodel to be successful."
Beavan, as the GIF above will serve to remind you, was the costume designer who demonstrated grade-A badassery at the 2016 Oscars by accepting her award for Mad Max: Fury Road wearing a custom leather biker jacket. The item glittered with an appropriately threatening "Immortan Joe" symbol on the back, and she paired it with pants, a scarf and some metal accessories.
When she strode down the aisle, a bunch of old dudes didn't clap. And there were surely women, bedecked in sequins and gowns, who raised a (jealous) eyebrow or two.
But the 60-something-year-old didn't really give two shits, she wrote in the Hollywood Reporter — in fact, it was all part of her fashion philosophy, the one we plan on reciting every day.
Like we said: hero. Read the rest of Beavan's essay in the Hollywood Reporter, or just slip it in the special Oscars red carpet issue of Us Weekly of any teen girl you know.