Bobbi Kristina Brown's Cause of Death: Autopsy Reveals Death "Not Due to Natural Causes"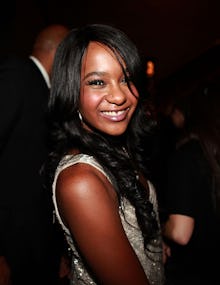 Bobbi Kristina Brown, the daughter of the late Whitney Houston and the R&B singer Bobby Brown, died this past July, six months after she was found unresponsive in a bathtub in her Georgia home. On Thursday, following "requests from the media," an Atlanta judge ordered the Fulton County Medical Examiner's office in Atlanta to unseal Brown's autopsy report, reports the BBC.
Read: Bobbi Kristina Brown, Daughter of Late Whitney Houston, Dies at 22
The report reveals that Brown's death involved alcohol, cannabis and anti-anxiety medication or sedatives in addition to the "underlying cause" of "immersion associated with drug intoxication," reports the BBC. The medical examiner's statement concluded that "death was clearly not due to natural causes, but the medical examiner has not been able to determine whether death was due to intentional or accidental causes, and has therefore classified the manner of death as undetermined.''
Brown's death at 22 came a little more than three years after the death of her mother, Whitney Houston, in 2012, at the age of 48. Houston was found unconscious in a hotel bathtub and later pronounced dead at the scene. The singer's cause of death was later ruled to be "drowning" and "effects of atherosclerotic heart disease and cocaine use," reported CBS News in 2013.
After the release of Brown's autopsy results on Thursday, her father announced in a statement from his lawyer on Friday that it was "unsettling" and "mind-blowing" that the information had been made public, reports the Associated Press.
March 4, 2016, 10:11 a.m. Eastern: This story has been updated.